"I want to sleep with you in the desert tonight / with a billion stars all around…" (From "Peaceful Easy Feeling," by Jack Tempchin, recorded by The Eagles in 1972.)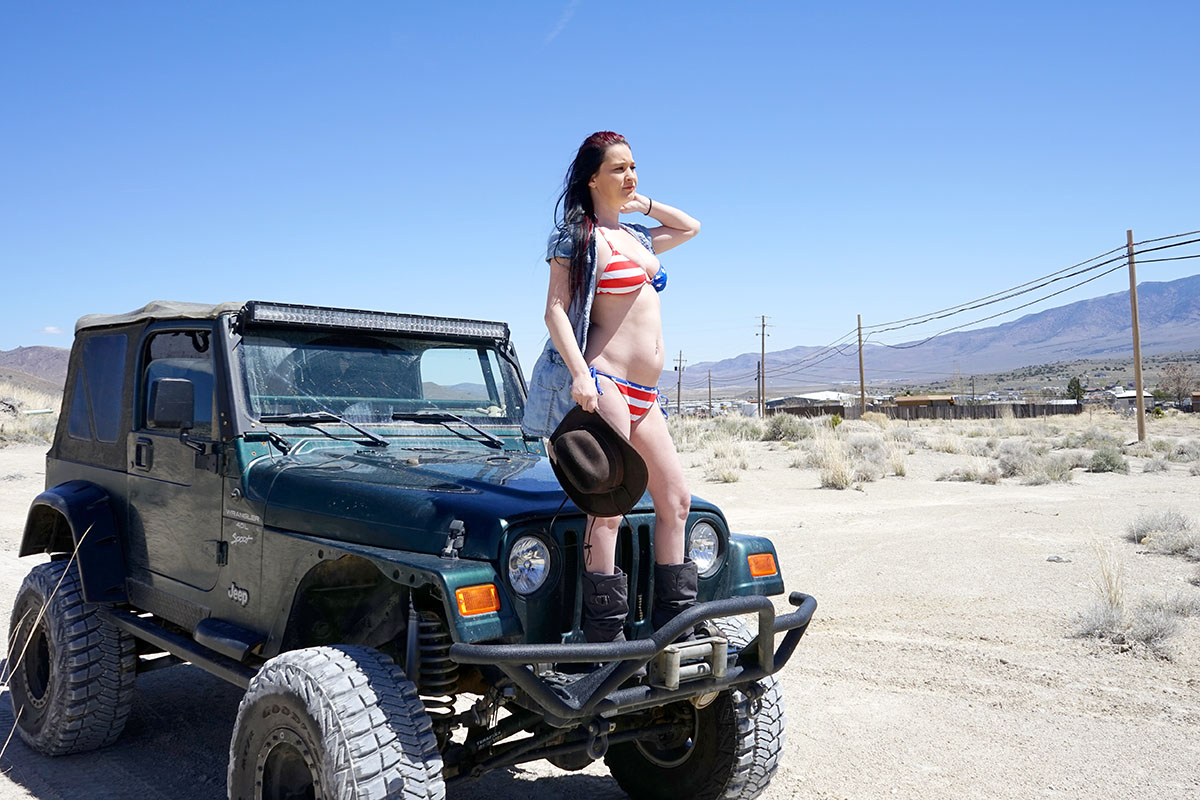 When you look into the night sky over Nevada, it really does seem like you can see billions of stars. It feels like you're viewing a big slice of the universe at once, spread out like a curtain of purple, green, yellow, white, and red light. Nevada is a very big state—big enough to explore its mountains and vast desert spaces forever. My favorite activity is to go off-roading in the summertime, camping and fishing, because I'm an outdoorsy girl. See that dust trail in the distance? That's this wild girl piloting a Jeep Wrangler at top speed. I'm petite, but I'm powerful—I control that 4 X 4 machine expertly, but you'd be surprised—and delighted—if you saw my driving costume: a bikini, a Stetson hat, and boots. I'm a small package, but hold me carefully: I'm explosively sexy.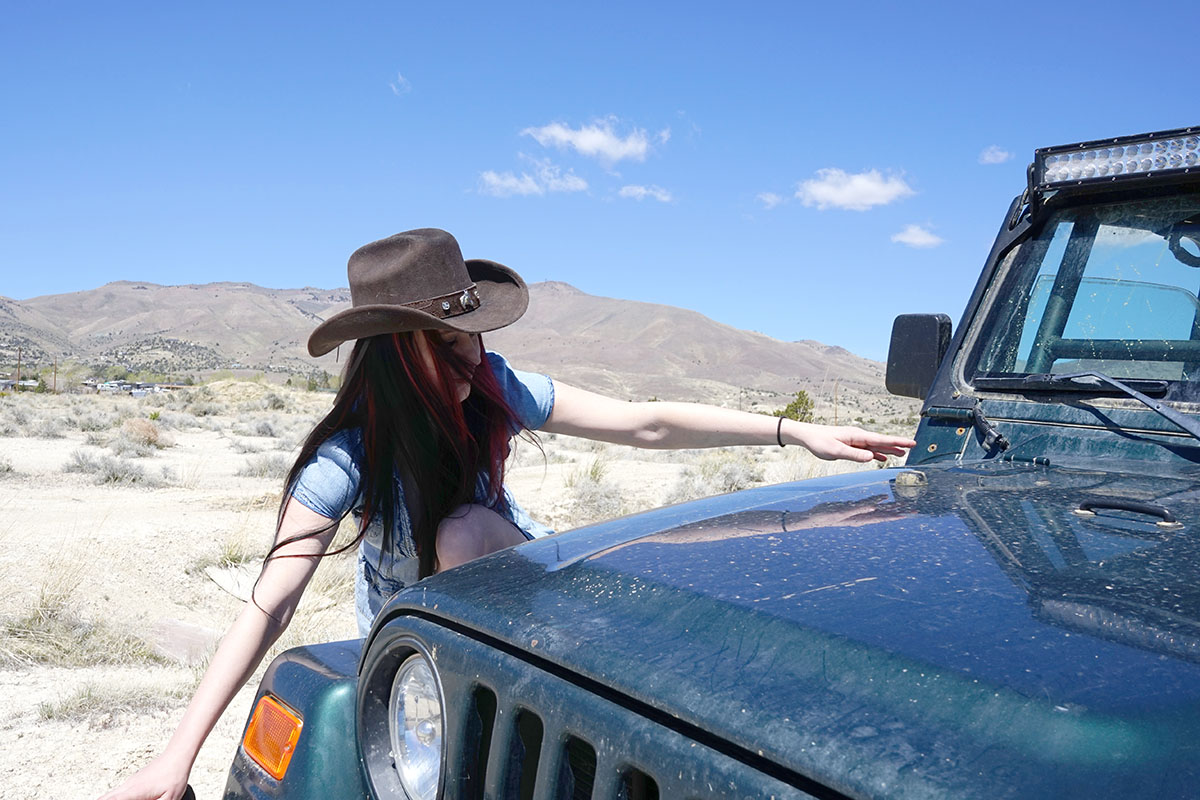 I like making love anywhere, but doing it under the stars is so erotic because it's like celebrating the awesomeness of nature by being au naturel with all those eyes in the sky watching me ride the rocket (a lucky guy's cock, of course). When I go trekking in the outdoors on an outdate with—could be a guy like you—I like to take him to my favorite hideaway spots where we can spend a few days exploring, talking, laughing, skinny-dipping in a cool, isolated stream, four-wheeling up in the mountains, camping out lakeside or up in the trees, kissing, cuddling, fucking doggy style at sunset or sunrise so we can both enjoy the beauty of the falling or rising sun, dancing by a lake naked as our music blasts from a player—anything we want to do, by ourselves, in the great wide open.
When you go camping, of course, you've got to bring the proper equipment: a spacious, waterproof tent that goes up as easily as the dick of a guy who sees my pretty self walking slowly and swaying seductively when we first meet; a gas-fired portable cook stove (although a wood fire is okay too, because the smell of campfire smoke is so erotic and relaxing); a fully-charged-up music system (like we'll be after a full day of tearing around the hills in my Jeep!); some appropriate beverages to keep us hydrated (because we'll be engaging in a lot of, ahem, physical activities during our private vacation); a selection of steaks, chops, and chicken and veggies for frying or roasting; maybe some sweet treats (besides me) because we'll be using up a lot of energy.
When you embark on an adventure into the wild parts of Nevada, it's good to have a game plan, too. Sexy games that involve role-playing is what I mean, because out in the natural world we can let our imaginations run wild. After we set up camp and have some snacks and drinks after traveling during the day, it'll fade into evening. After it gets dark, we could play the Beautiful Lost Girl game, where I act the role of a young woman who wanders into your campsite one night after walking alone for some days. You, my handsome rescuer, make us a hearty meal while I tell you about my journey. Of course, I am grateful to have found you, but as we chat, you discover that I'm not a victim of misfortune but a rather capable young lady. After all, I found my way to you! There I am, a formerly lost-but-now-I'm-found girl, in possession of essential survival skills, sexy and smart, and it turns you on like crazy. Will this girl turn out to have the kind of sexual experience that complements her woodland skills? "Take out your cock and I'll start to show you," I will say, unwrapping a condom to neatly glove you up for a "Thank You" post meal BJ under the vast stars above. Imagine running your fingers through my long, dark hair as I take you deep in my mouth and look up to you with my oval eyes. Let yourself sink further into the fantasy we're sharing, thinking, "Wow, this girl walked all day to get here, she came out of the dark like a vision, and now we're making love." Have you ever fucked by the flickering light of a campfire? As you slide your slickened-up, condom-covered cock balls-deep in my pussy, you'll get another surprise—I can do things with her that you've never experienced before with a woman. (Let's say I'm very fit and flexible where it counts.)
And, if you'd like, we can reverse the roles on another day, where you play a guy whose truck broke down in a remote location with no mobile-phone coverage, and who's spent a couple days walking out to safety, and it's my camp he finds (lucky him!). It's been a hot summer, and he's worked up a sweat footing all those miles. There's a gentle stream nearby where I lead him and in which I bathe him, my hands washing every part of his body. In order to complete this loving ritual, I've asked him to strip down, but I've removed my clothing too, so he won't feel embarrassed. (I don't have much on anyway.)
Remember when I said how important it is to bring the right supplies when you go camping? I also bring comforting liquid soaps, a selection of lubricants, latex gloves, and my own kit of sex toys. Hey, you never know when you're gonna get a chance to take a nude back-country bath with a handsome man, Okay, back to the bath in the stream: Snapping on the gloves and squirting on the soap, I work over our manly hero's every luscious inch, leaving him shiny and clean, smelling fresh, and giving me the six-inch salute from between his legs.
We've got to do something with his magnificent manhood, which I've shined up with soap; now, I apply a condom to his flagpole, and cover the rubber with lube, because I intend to give him a very artful hand job to relieve him of the tension of his long journey (and get him ready for all-night-long sex). (How many miles would any man walk for a great HJ? No one knows, but I guess at least a hundred.)
Another fantasy that stimulates me is playing the part of a 19th century wanted stagecoach lady robber on the run and in disguise. The guy I'm with pretends to be a Pinkerton detective who has "arrested" me, but is having second thoughts because he's so fiercely attracted to me. He's thinking with his dick for sure, but I'm successfully convincing him of my "innocence." I'm such a bad girl, I show him my gratitude by letting him under my several skirts and petticoats and into my tight pussy. I can see that he's cumming to his own conclusion rapidly, and he doesn't care that I'm a wanted criminal. He's been pumping me for a long time, but I can feel him slowing down before he shoots off massively in the condom. I cradle him in my arms all night.
Project your fantasies on me, let me be your guide to thrills; I'll be your mirror. Or take me as I am, a sweet, sensible, sexy Midwestern girl who can give you the best head you've ever felt, cook a steak to perfection, establish a campsite like she's been doing it all her life (and I have), knows lots of truly private outdoor locations and Jeeping back routes, and makes love with a heart as big as all outdoors. I'm Jenny Jade, and I'll be your cowgirl, your backwoods lover, your everything! Contact me at [email protected] to book your trip to sexual adventure!