Ask for Two Girls and You Shall Receive – Plenty of Sex!
Posted by Pantera on November 6, 2017
In my profession as a courtesan, I am what is known as a Giver or a Pleaser. If you come to see me, I will do my best to provide you with so much pleasure, in so many ways, that you'll leave exhausted, ecstatic, and anticipating our next meeting. I'll leave you with such strong impressions that whenever your thoughts turn to sex—and most people think about sex most of the time—a mental picture of me will likely pop up in your imagination. If you have a really creative mind, I may become a figure in your dreams. I'll be so happy if I do, because that will mean I've done for you what you need: brought warmth, erotic fun, and sexual playfulness to your life. In other businesses, most clients are satisfied if you deliver the goods on time; in my business, it's my joy to bring you to the heights of climactic rapture.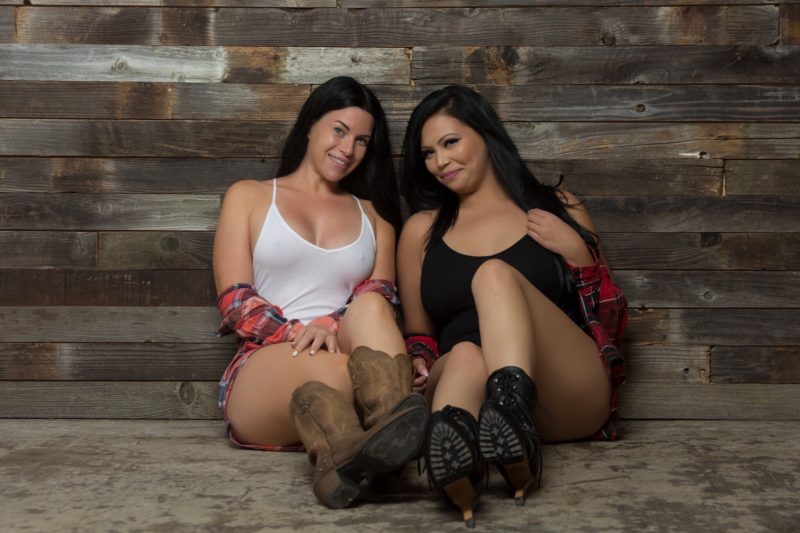 Have a look at my lush body—and that of my friend, Randy Ryder, who is to my left in the above picture. Our body types can be described by the Yiddish term zaftig, which means "alluringly plump, curvaceous, buxom" and, especially, "juicy." We have big boobs, big butts, and are all-round all-female. If you book a two-girl party with us, what you will get is comfort, warmth, and magnificently muscular thighs between which are soft, receptive pussies that welcome the penetration of hard cocks, eager male or female fingers (or tongues), or the pressure of a woman's hot cunt as we scissor-grip a sister.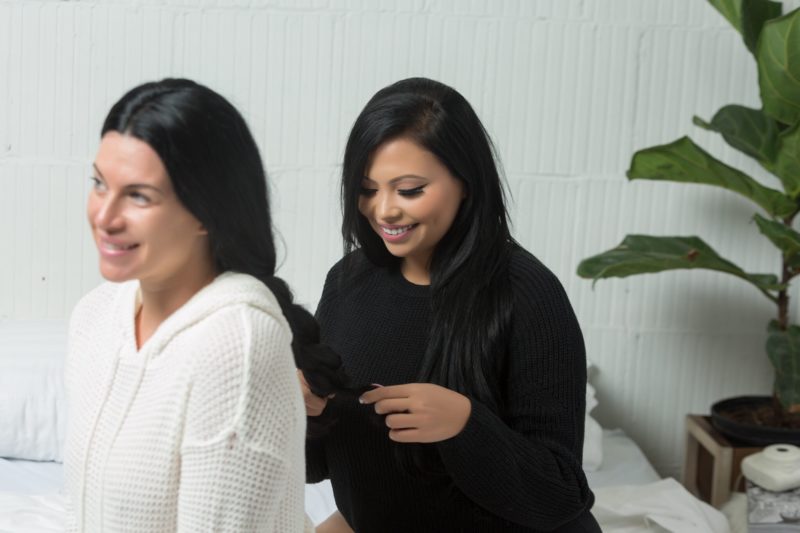 The chemistry of two girls like us, with our similar body types, can be heady for men or women. For one thing, we can offer erotic variations on the old expression, "Two heads are better than one." First, that means two sexy imaginations are thinking up dirty things to do to you. And second, you gain the advantage of two girls working simultaneously on pleasing you. If you're a girl, you can sit on one of our faces and get your clitty licked while the other fingers your pussy from behind. (Screaming with joy is definitely allowed.) And if you're a guy, one of us can jerk your dick up good and hard, then hold it tightly while the other sucks you off—and vice versa.
Then there is the famous "pussy pile"; what happens is that one of us lays on her back while the other assumes the female-superior position above, then adjusts herself so our pussies align. Just like the old advertising slogan, "Double your pleasure, double your fun!" Just aim your hard cock, and slide it into whichever hole you like. Some guys like to switch back and forth every few strokes, and other guys like to linger awhile grinding away. Some guys like to shut their eyes, popping in and popping out, making a fun game to trying to guess, "Pussy, pussy, which pussy am I in?" And if you want to stick your thumb in one of us while slamming away at the other, be our guest!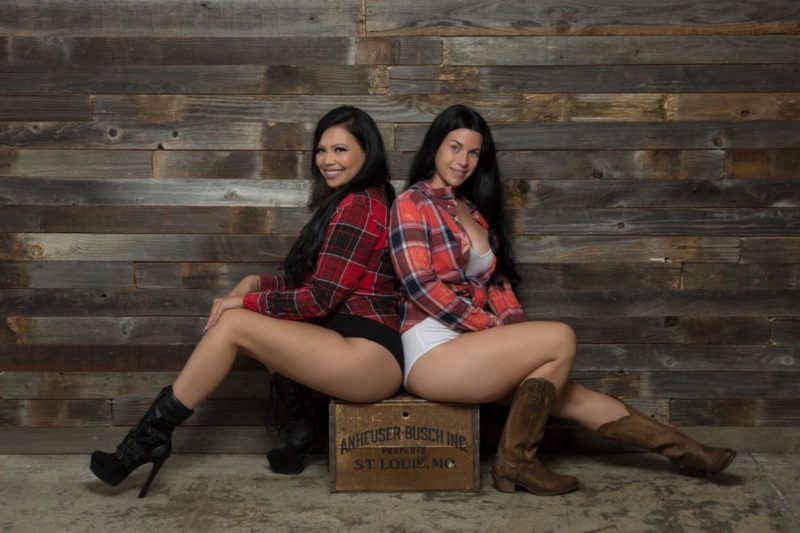 Now if you're a bi-curious or gay lady, you can finger-bang one of us while licking the other. Or just lick us both in one long, luxurious tongue-lashing. Now, if you're a couple seeking a foursome, the woman companion of the man can grab his hard shaft, give him some quick sucks, then plug him into us, back and forth, gently stroking his scrotum while he fucks our pussies. Some men are surprised at how excited their lady friend gets from watching them hump our muscular, grip-tight cunts. Some women will drip some lube on one of their fingers, then suddenly slide it right up their man's ass just before he's about to spurt (women can always can tell by the distinctive, and funny, facial expressions their guys make in the last seconds before ejaculation). Some men groan deeply, some howl like wolves, and some just go, "Wow!" The she pulls him out and lets him cum in her mouth. For some couples, that's the first time that's happened, and you know the hubby or boyfriend will start to ask to finish off in her mouth when they get home.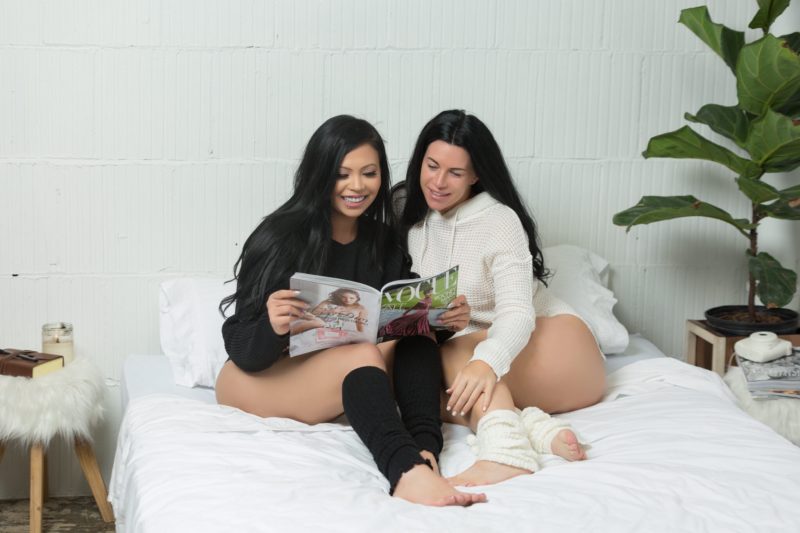 For the girls, we like to teach them about female ejaculation—the way you can forcefully stimulate the Bartholin's glands in the vagina that produce lubrication to make that natural wet stuff just shoot out at the moment of orgasm. It works for bi-curious, gay, or straight women, and so many of them appreciate learning this skill. You might have to launder the bed sheets a little more often, but its well worth it for the enormously powerful effect that female ejaculation has on a woman's sexuality. A lot of women have never heard of it before, and are ecstatic to discover that their sexuality has even more varieties of pleasure to offer them. It's great to be a woman!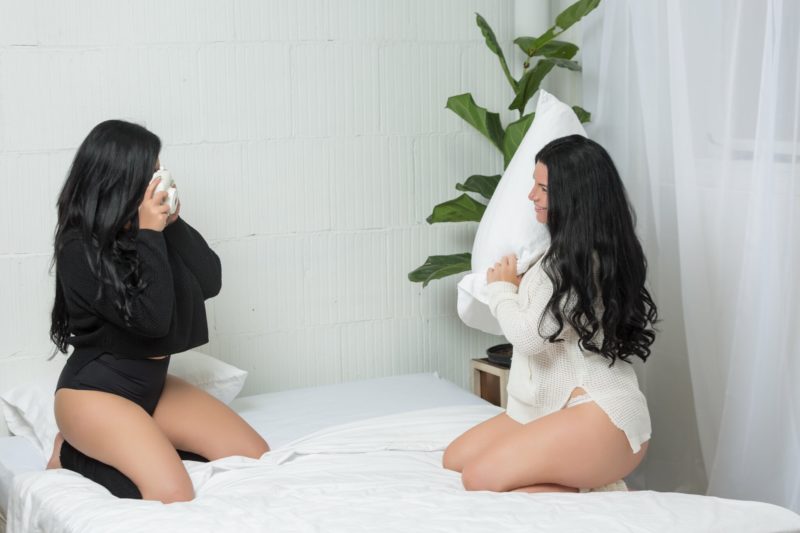 And, of course, it's great to be a man, especially when we blindfold a male client and play "Gotcha!" with his cock. The object of this sex came is to see how often he guesses correctly which of us is sucking him. There are no losers in this game; everybody wins. We get to demonstrate the plethora of our oral skills, like licking his shaft fully with our tongues or tickling it with their tips; running our manicured fingernails slowly up the underside of his cock (which always elicits deep moans from men); deep-throating him; hard-sucking him with our mouths full of cool water or Champagne, then making loud popping sounds as we detatch; and—one of our favorite moves—one girl jacking him while the other blows him, up-and-down, up-and-down.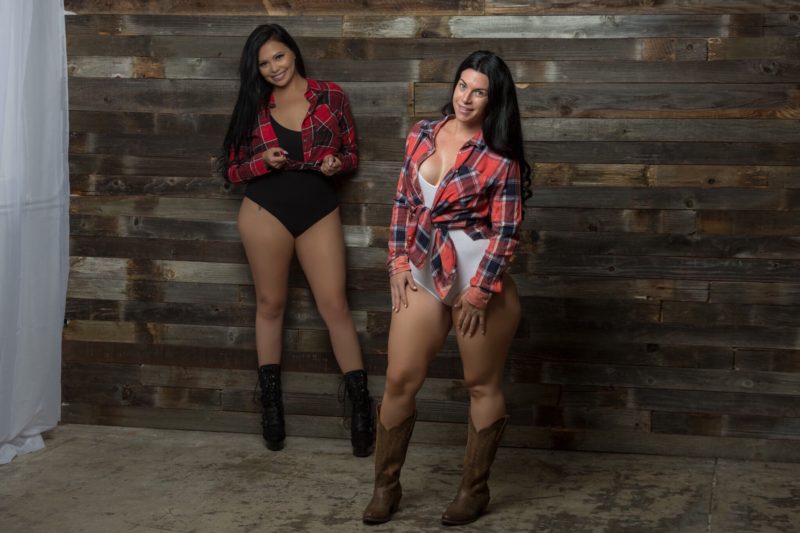 Finally, when he's fully stiff, the head of his cock all purple and fully inflated, we get up on the bed doggy-style, and he rams into our puffy pussies like a madman who hasn't had sex in weeks. Sometimes he blows his load into one of us, and, more often you'd think, he stays hard after the first climax, plunges full-length into the other girl, and cums a second time. It shows why we're such a powerful pair of lovers. So call us to book your two-girl party NOW. Your Johnson will thank you!