Young Girl Seeks Men Wise Enough To Appreciate Her Charms
Posted by Ophelia Bee on January 23, 2018
I can always sense when a man is looking at me. I feel him watching me. I can be out somewhere, say, browsing the stalls at a farmers market, when I feel eyes on my back. A twinge goes up my spine, and I suck in my breath quickly, then let it out slowly. Somebody is checking me out from somewhere nearby, and it turns me on. It's not stalking; it's being adored. Being the object of a male gaze, especially from a mature man, a man who knows how to study a woman's body and the erotic possibilities it suggests, switches on all my girl parts. From my mind down to my toes, I feel intensely aware and charged. A stranger is making me part of his fantasy world, and it gets me wet in the area of the lovely V.
But first, the chase. I get a kick out of teasing guys. I like older men the most because they've lived long enough to appreciate a-n-t-i-c-i-p-a-t-i-o-n, a nice, leisurely buildup to a fiery fuck. Some younger guys, when they come to see me at the SageBrush Ranch, they see this petite, well-toned girl with a pretty, innocent face and pert titties, and they shift into fifth gear instantly, strip down, and want to mount me fast, like I'm their girlfriend's sweet younger sister they always craved to penetrate. That's a little too fast for me. I like giving oral sex, for example, and a guy so desperate to jam his dick in me is missing a great experience with a girl who knows how to use her mouth to talk and to suck a cock to a fare-thee-well. (More about that later.)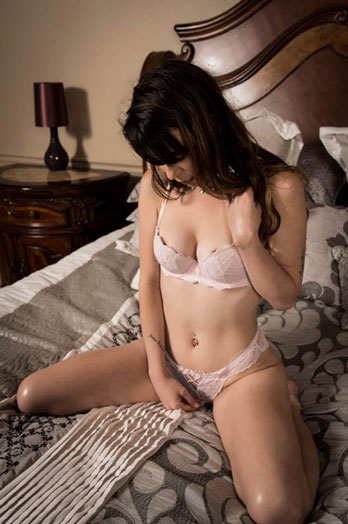 Back to the farmers market. I discreetly took out my compact mirror from the pocket of my jean jacket, held it at a certain angle, and glanced into the reflective glass. Along with the unbuttoned jacket I was also wearing a dark, sheer tee shirt that outlined my bare tits, red bikini panties, high-waist 90's denim that hugged my ass, lacy white socks, and a pair of beat-up pink sneakers. Casual but sexy and slutty enough to catch the eye of any man who loves a woman's sexual power. About four stalls down I glimpsed a man, about six feet tall, with a bit of a middle-aged belly but cute, with a trim gray beard and glasses, and he was definitely not browsing the vegetables. His eyes were taking a leisurely tour all over my body.
Whether I'm sitting conversing in my room with a customer, hanging with a client on an out-date, or just pleasing myself teasing horny strangers at farmers markets, I call that kind of look, "the hook-'em moment," because I know my sexual projection has seized full power over the situation. Sometimes I imagine I'm a spy whose mission is to seduce her follower and fuck secret information out of him while I'm draining him dry.
I decided to do a little flirtatious posing to further arouse my audience of one and increase the sexual tension between us. So I bent down low, seeming to pick something off the ground, displaying my tight little buns and dancer's legs to full fluorescent effect in those leggings. Then I straightened up, stretched and arched my back so my nipples pointed skyward, stood with my legs apart for few seconds, and sauntered off.
I didn't have to glance back over my shoulder to know that he was moving behind me. I kept slowly walking, stopping every few stalls to browse, feeling him getting closer. By the time I reached a counter where the vendor sold jewelry made with turquoise, he was beside me. I waited for him to speak first.
teen angst running away from home look for the day. pic.twitter.com/gbTzF1Ok19

— Ophelia Bee? (@OpheliaBeeMine) November 10, 2017
"Hello, my name is Frank*," he said in a soft, deep voice. I turned to face him, offering my hand to shake. "Ophelia," I said. He held on to my hand and didn't pull his back. Although he was a big man, he had a gentle touch. "I have a friend with a birthday coming up, and I need a beautiful young woman to help model some of this jewelry so I make the right choice," he explained.
I love men who have lived long enough to confidently state their attraction to me so artfully. Here he was, holding my hand, touching me, standing so close I could feel the warmth of his body, the energy of his personality. So I said I'd be glad to help him out, and he let go of my hand to pick up a choker from the table.
I held up my chin so he could fit the choker, with its central throat turquoise stone, around my small neck. He didn't close the fastener in back but held the choker tenderly around my throat. I had a sudden thought: "The first chance I get, I am going to suck this guy out of his socks!" I was getting very excited, but I didn't show it. Keeping your crazy horniness corralled when you're that worked up is one of the best parts about moving slowly.
Frank tried a couple of necklaces and bracelets on me, then placed them back on the table and thanked the vendor for the time. "Would you like some coffee?" he asked. I said sure and walked with him to the coffee truck. As we sipped, Frank asked me out. So I told him that I make my living as a sex worker at a legal brothel. Now, that startles some guys.
hi love. pic.twitter.com/nlehtd1ZQv

— Ophelia Bee? (@OpheliaBeeMine) December 23, 2017
But not Frank. He smiled broadly, like he had won the lottery. "Really? I've never had a lady as young as you. Girls your age usually see the gray hair and roll their eyes." I told him I didn't see anything but gentlemanliness, grace, and experience in men his age. As we finished our coffee, I gave him my contact information and told him to book an appointment with me at the SageBrush Ranch.
He contacted me the next day, and we set our time for Saturday afternoon. When he arrived he was actually wearing a suit! But he looked good in it. (I especially love the shockingly hot effect when you fish a hard, purple-veined dick out of dress pants.)
We walked to my room, sat down to conclude our negotiations for a party, then I put on some Sinatra for us to dance to. Sinatra always works to get people in the mood for sex. I had a friend named Roxanne who taught me about Sinatra's music and life. I always knew which guys she was planning to fuck: if she put Sinatra's music on when the guy was with her, that was the signal. So I picked it up from her. Older men see Sinatra as a model for masculinity, so I always put on Old Blue Eyes for them.
We danced for a long time. I pressed myself against him, and I could feel a nice lump growing in his pants. I couldn't wait any longer. I had to satisfy my curiosity about Frank's dick: Was it big? Was it long? What did the head look like?
I sat down on the bed, motioned Frank over, and told him to stand in front of me. I looked in his eyes as I unzipped his pants, reached in, and located his snake in its lair. It popped out strong and tall; the head even swelled up and subsided. Man, was I excited! I should tell you all that I absolutely love giving oral. I do it because I love controlling a man's pleasure. Jerri Hall, who was once married to Mick Jagger, famously said something like, "If you want something from a man, drop to your knees and give him a blow job!" I unwrapped a strawberry-flavored condom and rolled it over Frank's manhood.
hey Lolita hey pic.twitter.com/cnYy2CS428

— Ophelia Bee? (@OpheliaBeeMine) June 25, 2017
I like the funny faces men make when I suck them. I slid my mouth over Frank's best friend, and that dick head of his swelled up on my tongue. Yummy! Frank's facial expressions weren't silly, but ecstatic. I took him out of my mouth, and said, "Oh, honey, you haven't had a good dick-sucking for a long time, huh?" He nodded, then thrust his dick forward with a pleading expression. I returned to pleasing his pussy-prodder.
I had him groaning and moaning, fucking my mouth with that long-experienced rod of his. If I let him continue, I knew he'd soon blow his load into the condom. But I wanted him to explode inside me. I told him we had to strip off and get fucking now. "I just can't wait to get your dick in my cunt!" I said.
what's for breakfast?? pic.twitter.com/EAUWJUIF2g

— Ophelia Bee? (@OpheliaBeeMine) July 13, 2017
I lay on my back on the bed, and in a hot second Frank had my legs in the air and was pile-driving himself balls-deep in me. God, he filled me up. He rammed himself into several times, grunting like a lion, then settled into a steady rhythm of pelvic thrusts, and we cruised along like that for a long time. He slowed down, then sped up; he pulled almost all the way out, then slid very slowly back in my pussy; he made short, sharp penile motions; he explored every inch of my pussy; and I lost track of the time. That's what I like about older men. They use every move they know. Some guys want to fuck hard for five minutes, then shoot and go. Mature men want to stay inside that special warm and tight part of a woman longer. Much longer. Ahhhh….
little. pic.twitter.com/FzBVwSuEg9

— Ophelia Bee? (@OpheliaBeeMine) July 15, 2017
Suddenly, Frank started hammering me like a living machine tool. I came twice before he did, and when he came, he slowed almost to a crawl, and I could feel the pulsations as he filled up the condom with his love-milk. I think he must have ejaculated eight to ten times, strongly. What a first-time experience with a client!
I love entertaining generous, mature men, and, as a new girl in town, I'm looking for new friends, and though I'm young, I've learned my superb sexual skills from men with decades of fucking experience. Let's make a date you'll never forget. Be good to your dick—he's been good to you. Come see me and let's party!
*Names have been changed for purposes of confidentiality