Smoking Fetish: I'm a Smokin' Hot Goddess of Sex
Posted by Bella Divinity on October 20, 2017
There's an old joke that goes, "Do you smoke after sex?" whose punchline is, "I don't know. I never looked." Well, I smoke before, during, and after sex, except that my smoke comes from tobacco. (Although I crave an intense, fast fuck, with lots of friction stimulating my clit, so you might imagine you see a wisp of smoke rising from my pussy after we're done.)
A woman smoking used to serve a subtle sexual function in movies from the 1930s through the 1970s, where she would indicate her erotic fascination with a man by lighting up and gently blowing smoke in his face as her eyes traced the lines of his visage, imagining what it would be like to see that handsome mug hovering over her as he pounded away at her cunt with her legs wrapped around his back. Sometimes the guy would light two cigarettes, handing one to the woman, and they would blow smoke at each other as a prelude to sex. You can still see it in foreign movies these days, especially French ones, where the woman's eyes seem to become hazy as she grows hornier.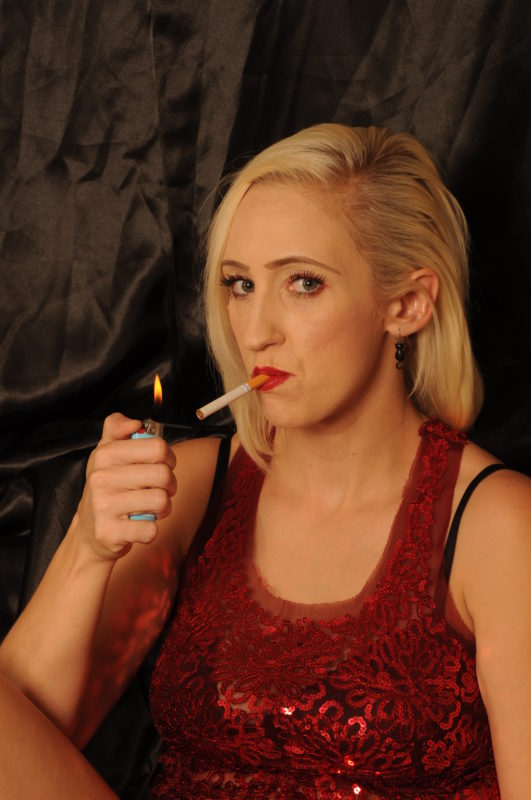 I like to smoke when I first meet and negotiate for my sexual services with a client. Doing so extends our pre-sex "interview" period, allowing him to savor my beautiful eyes and face, my slim body under my dress or jeans and blouse, and imagine the wonderful experience to come, when I slowly strip down for him, and wrap my lips and hands around his dick and "smoke" it to make him harden up before I assume whatever position he requests so he can slip his schlong into my smooth, wet, deep vagina.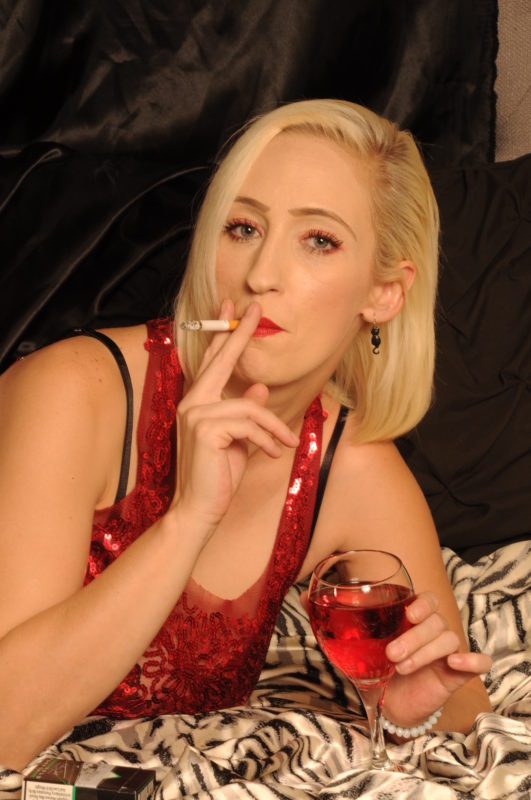 As my name suggests, I am a goddess, and I cast my sexual spell over my men. Smoking helps me cast my sex magic: its peculiar scent, the way it drifts around the room and is caught in the Nevada sunlight streaming in through the window, the feminine softness of my mouth, with which I will kiss you and suck you and breathe smoke on you from the sexual fire within me.
I am a natural redhead (though I recently became a platinum blonde), and everything you've heard about the high sexuality of redheads is true, especially with me. Our pale skin glows and seems translucent; our orange public hair makes our pussies look like they're aflame; and our flowery cunt lips are the pinkest roses you'll ever enter with your cock.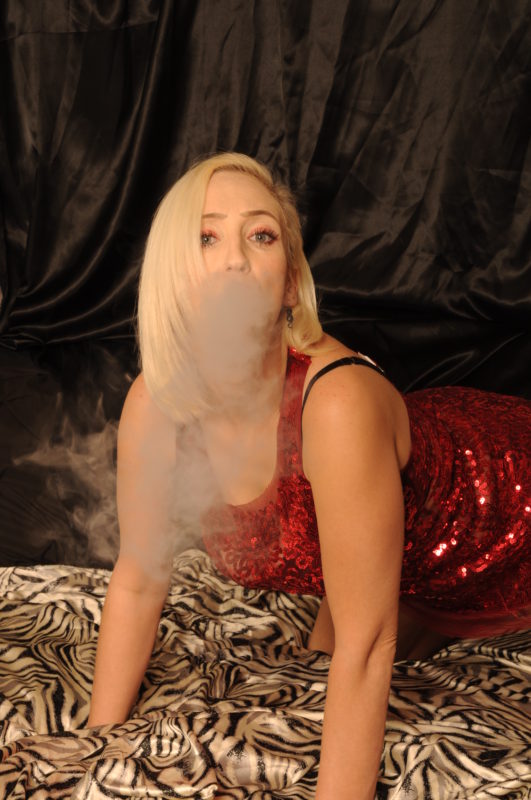 One thing I like to do is have sex standing up against the wall with a cigarette dangling from my lips. Why? Well, it's kind of a funky, wiseguy, sexy stance—me, play-acting this hot, blonde-haired-bitch talking dirty to you while you drive your cock into me as I suck on that butt and gently cup and massage your balls: "How do I feel, lover? You ever feel a cunt this tight? Go slow; I want to feel every inch of you… Now, ram it in! Fuck me hard! Drive it in! I'm gonna reach down and grab your shaft and feel it pulse as you shoot. Shoot, baby, shoot it all…" Now that's what they used to call a "knee-trembler."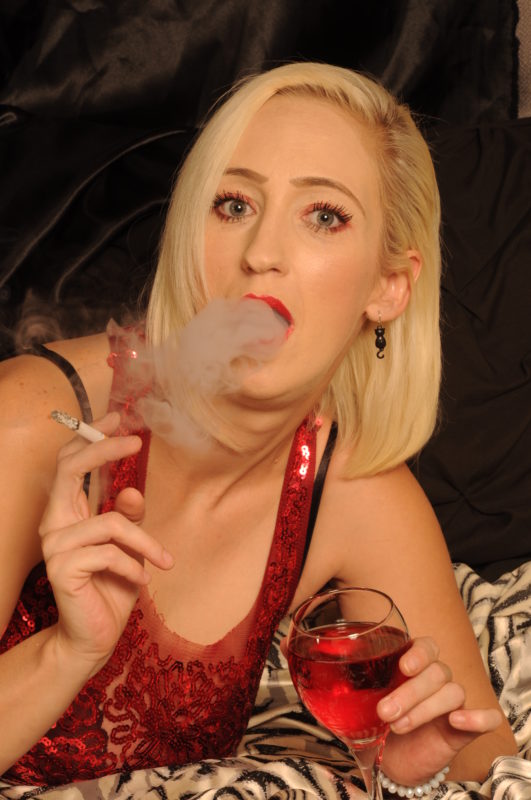 I also have a move that I call the "four-cigarette fuck." It's a sex game I play where I get up doggie-fashion, so you can't see my face, arch my back so my pussy's wide open to you, then let you stuff me full of cock while I s-l-o-w-l-y smoke away. The longer we fuck, the smokier the room gets until it feels like we're floating on a cloud. You hump away while I inhale that sweet smoke, but I don't tell you how many cigarettes I've finished. The idea is to keep you fucking me as long as you can until you can't wait any longer and blow your load. Most guys make it through all four cigarettes because that's how good my pussy feels—you don't want to stop, but the pressure of pleasure keeps building up until you release your cum.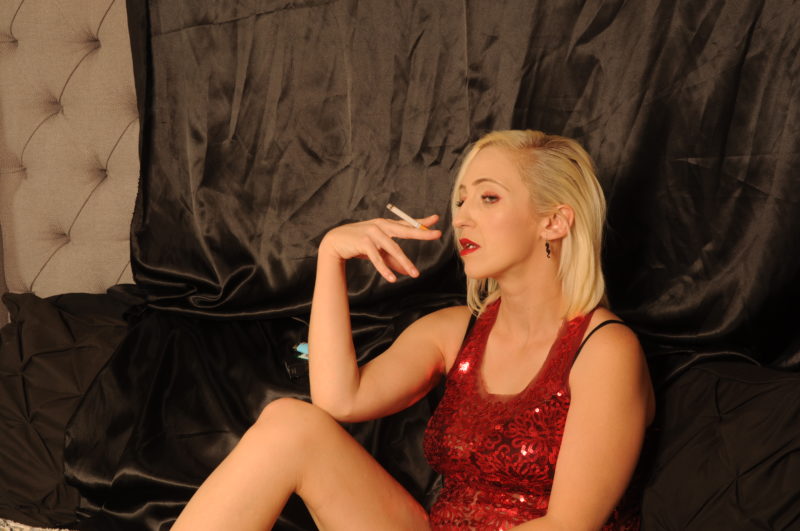 But hey, not to worry. Afterwards, as we lay next to each other, we'll share a smoke while you rest until your cock is ready for me to lean over, take you deeply into my lipsticked mouth, and suck you carefully and sensually back up to a full erection. Then maybe I'll sit on your cock, and use my athletic pussy to pump another load out of you while I casually puff away. Smoke 'em if you got 'em!