Pinup Fantasy: I Help To Keep Our Boys HARD At Work
Posted by Amber Adams on November 28, 2017
It's been said that every pinup has a bit of a bad girl inside for men to savor, and I, Amber Adams, ah hem, embody that wickedness. As a pinup girl, I want you to dream about me as your womanly ideal at night and during the day. What man doesn't want to stop and let his mind drift off for awhile, with me as his fantasy, as his cock grows stiff in his pants?
Pinups of beautiful girls date back to at least the 1890s, and the spirits of soldiers, sailors, and airmen during the First and Second World Wars were kept UP by pinups of their favorite models, like Miss Fernande during 1914-18 (one of the first busty, fully nude models) to actress Betty Grable during 1941-45, whose swimsuit poster was pinned up in millions of GI lockers. And who could forget the bomber and fighter nose art of World War II and beyond featuring beautiful nudes with names like Pink Lady, China Doll, Dream Girl, Butterfly baby, and Black Widow? Brave and handsome young men flew these sexy images over enemy territory from Europe to Asia.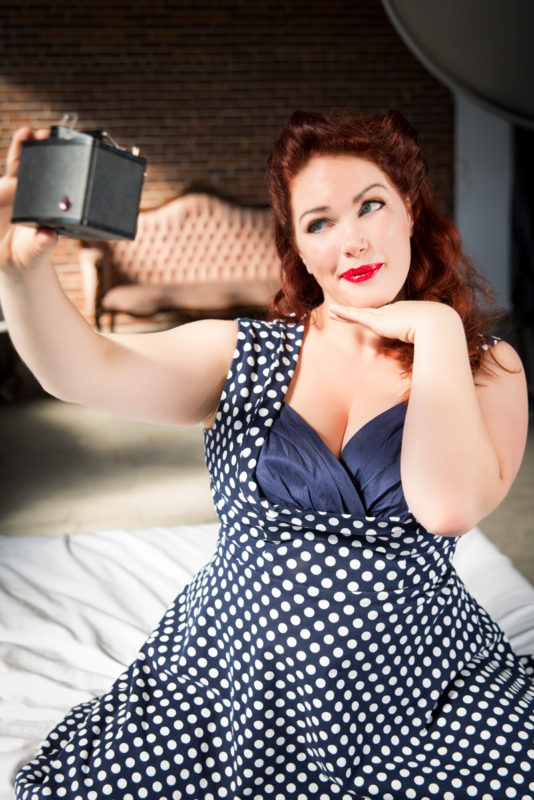 And speaking of sexy images, here's one: Close your eyes and imagine yourself in a private room having a date with me. I am a pinup poster girl come to life and holding your dick gently in my hand while my smiling, naughty face looks up to yours. A couple of squeezes and your beanstalk is lengthening and becoming hard. It looks yummy, and my pink tongue pokes out to lick at it—a few flicks at the head, then a full-length slow lick from the balls to the tip. You're now rock-hard (who wouldn't be?) and my juicy red lipsticked lips form an O and slip over your shaft. For few precious minutes, your manhood is my lollipop, and I slowly suck at it to get all of its sweetness.
Got your imagination stirred up now, soldier boy? Let's continue: My soft mouth continues loving your cock until my lipstick is gone and your Johnson is decorated in red. I'm wearing a short, flouncy skirt with nothing under it but a soaking wet pussy. I apply a condom to your dick (safety first!) and hop up on the bed to assume the doggy position. "Your target for today is… My hole!" I say, as you climb aboard the bed, aim, and stick it deep in me. My body shivers from the urgency of your first thrust (one of my favorite moments of an encounter; sometimes a guy hits clit on the first go, and I get a sudden climax).
Then we settle into an easy rocking back-and-forth, push-and-pull motion that's like dancing, but much better. As we fuck, I tell you, "Look at my pinup on the wall—you're screwing that girl! Screw me, baby! Ride me!" We do that for a few minutes, then stop to reposition.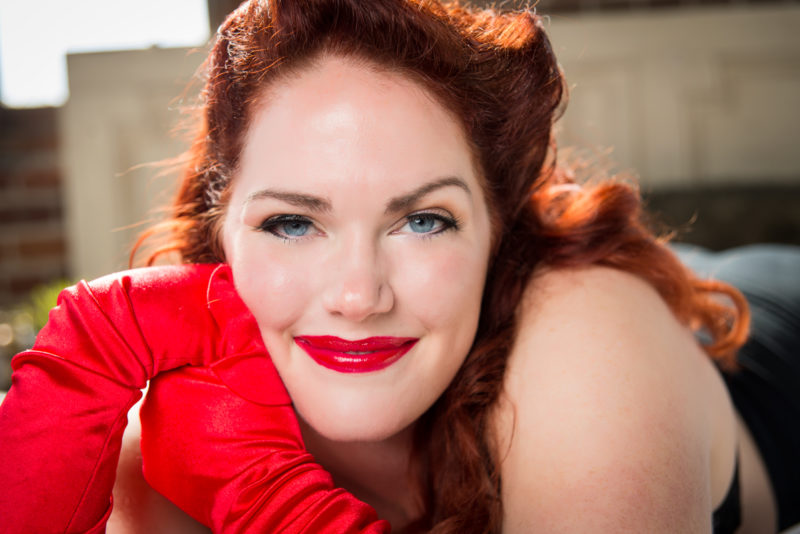 Now I'm on my back, with my legs up in the air, my pussy all red and well-fucked, but ready for more. "V for Victory, honey!" I shout. "Do your duty for your country!" (Don't worry if your willie droops a bit by this point from exhaustion; I'll suck him back into action fast.) You slip it back into me and my eyes roll with pleasure. We hug each other and rock affectionately, my cunt and your cock locked. Do you feel how warm my pussy is? I'm so wet now Ms. Puss is making soft sucking sounds. That's the music of a happy pussy.
As we rock and roll, I can sense your thrusts getting stronger as you edge towards cumming. Your facial expressions are also showing those crazy looks when a man is about to release. As you pump away madly, I let my hands slide from your shoulders down to your ass, where they each grip a buttock to draw you in closer. Even though my eyes are shut tight as my body roars towards orgasm, my hands spread open your butt cheeks, and then, at the moment before release, I use an old but wonderful trick we courtesans employ to please our men: I suddenly stick a finger up your butthole. You gasp in surprise and delight, thrust your cock as deep in me as you can, and your cock pours out cream that fills the condom.
As you pull out of me, I can swear I see steam rising, but it's probably my imagination. Don't forget to take my pinup with you as a memory that will live with you, and bring you back to me again. God Bless America!