A Timeless Sci-Fi Sex Role Play
Posted by Desert Rose on April 4, 2018
I am a Whovian. For those of you that do not know what that means, let me take a minute to explain a little about the British science fiction TV series Doctor Who and how I became a huge fan. The Doctor, the program's lead character, is an eccentric yet compassionate Time Lord that zips through time and space in his "TARDIS" (Time and Relative Dimensions in Space), solving problems and battling injustice across the universe. The doctors TARDIS is his old and occasionally unreliable spaceship that resembles a blue police phone box and is much, much larger inside than outside. The doctor always has a companion that he relies on to help get him out of, and into, trouble.
I was introduced to this magical series when a girlfriend of mine brought  it over to watch one night, and I have been hooked ever since. As I got into the show more and more and began to read fan fiction and collect Doctor Who paraphernalia, I started to wonder if I can incorporate my love for Doctor Who into my job as a prostitute working in a legal brothel in Nevada. Well, I started to put the word out to my clients — and it turns out that I'm not the only adult with a passion for the popular BBC series. As word of my role play offering spread, I received quite a response from potential suitors just itching to put a naughty twist on the timeless Time Lord.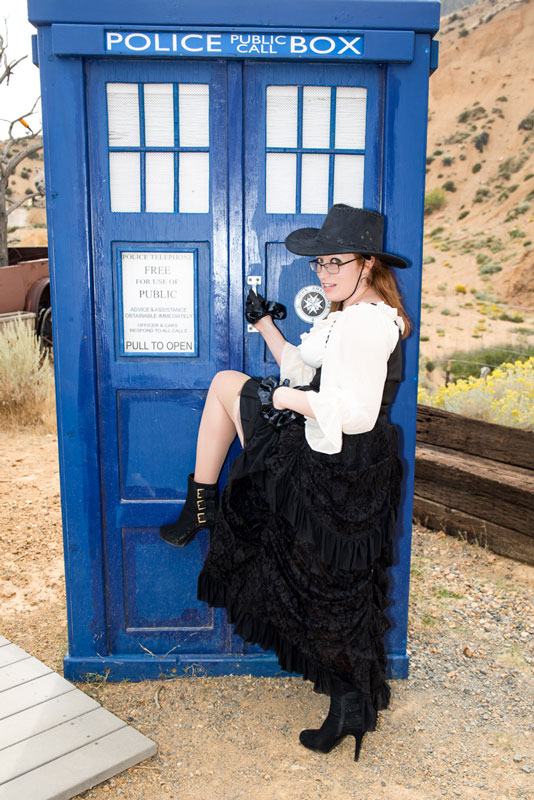 Since The Doctor always has a companion, can be anywhere — or any-when, is always getting into some sort of mishap, and always has fun, this show lends itself perfectly to ongoing sexual role-play scenarios between a sex worker and her repeat clients. Just as the popularity of the show has not waned since Doctor Who's debut in the early 1960's, the program's unique milieu allows me and my lovers to create consistently fresh and engaging sexual scenarios.
The current Doctor is played by a woman, actress Jodie Whittaker, which allows me to lead the role play as the main character and determine what timeline or environment my client and I will end up in each session. This is great fun for my lovers, as they never know what I have planned for them when they arrive at the bordello and enter my boudoir (the door to my room is decorated like the blue TARDIS police box, adding an extra element of fun.)
Have I travelled in time to encounter the Marquis de Sade? Will he teach me carnal pleasures and introduce me to orgasms surpassing even those obtained by my time alone with my sonic screwdriver? Perhaps, my lover plays the role of one of my nemeses, the dreaded Daleks — using his stiff and rigid eyestalk in all manner of ways to fulfill his nefarious objective to "e-jac-u-late, e-JAC-u-late!"
Because Doctor Who is so boundless in its scope and limitless in its settings, the possibilities for sex role play are only restricted by the imagination of my Whovian clients.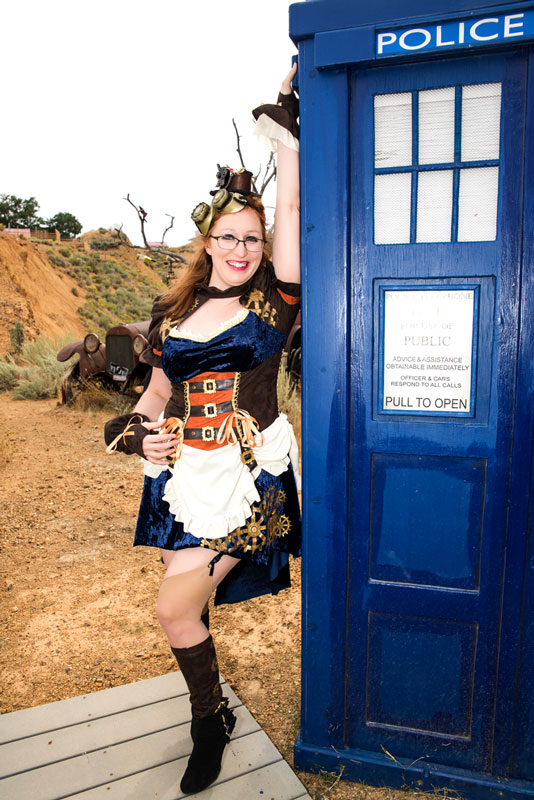 Another aspect of Doctor Who that makes for exciting role play is the show's unique concept of "regeneration." The Doctor occasionally changes his appearance, allowing another actor to transition into the role. My Doctor Who fans go bonkers when I pull the regeneration-twist on them: We're enjoying a hot session and I have my lover all sexed up. I tell my companion that I have a surprise for him and I step out of the room for a moment, only to return as an entirely different sex worker playing a new incarnation of the character and continuing our role play, and our steamy sex, without missing a beat. With so many women available at  a Nevada brothel, pulling this stunt or incorporating additional characters into the fantasy is easy, and adds unlimited potential for variety to the experience.
Sexual role play is great fun and it's always a joy to discover new clients that share a kinky interest. But ultimately, regardless of what leads you to seek out a lover, or what common interest introduces you to a newfound sex partner, I think the Doctor nailed what makes life worth living when he said…
"There's a lot of things you need to get across this universe. Warp drive… wormhole refractors… You know the thing you need most of all? You need a hand to hold."