A First-Time Client's Experience At The Bunny Ranch
Posted by CJ Asher on September 5, 2016
Aaahhh the World-Famous MoonLite Bunny Ranch. I remember my first time visiting this mecca of sexual desire and fantasy fondly – especially the beautiful, hard-working courtesans whose livelihood is fulfilling the sexual fantasies of men – and also women – who are looking for anything from a simple "party" with a beautiful lady to a wild orgy that would make even the ancient Romans jealous.
But, today, we're not here to talk just about them… we're here to talk about YOU! That's right, I'm talking to you, first-time brothel client, about what it was like during my first trip to the Bunny Ranch, one of Dennis Hof's numerous beautiful, legal Nevada brothels. You see, much like yourself, I was once a first-time visitor to the Bunny Ranch and, despite what you may have read on the Bunny Ranch Blog or seen on HBO's Cathouse, nothing can prepare you for the feeling of walking through the gates to a lineup of beautiful women or the experience of partying with an experienced courtesan whose sole desire is to satisfy your innermost fantasies. So, as your guide, let me share with you what I experienced during my visit, so that you can make the most out of yours.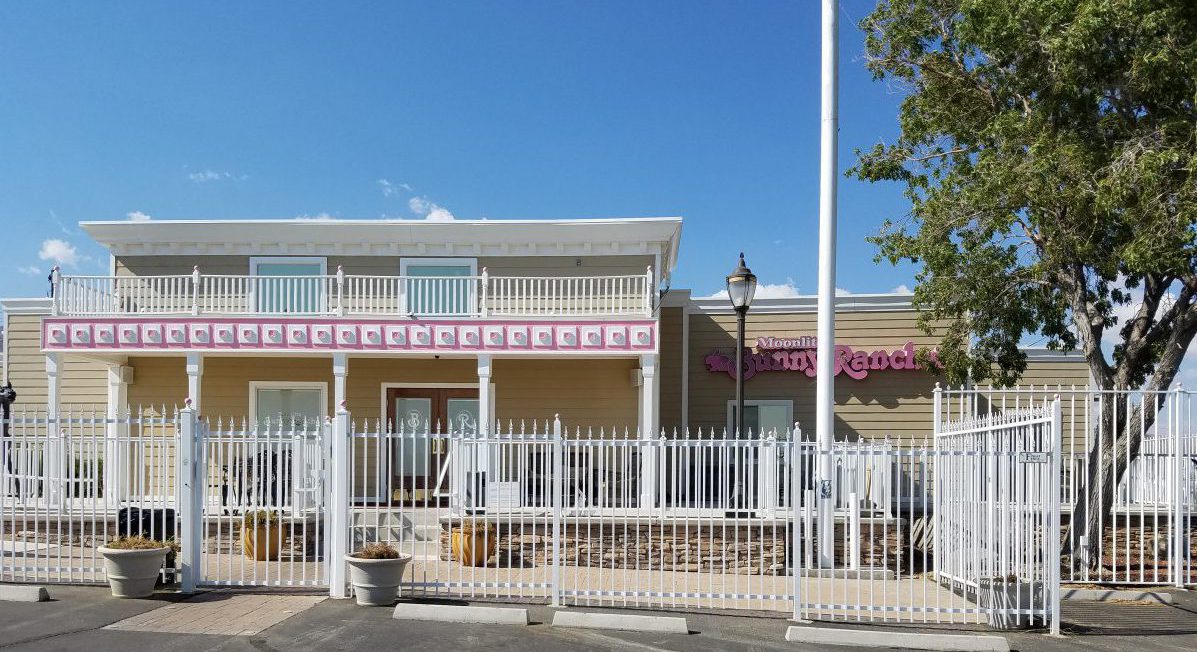 Pre-Trip Planning
Okay, so I'm a rather "vanilla" guy when it comes to sex, although I do enjoy girls with some piercings and ink and am really into threesomes. Whether you're looking for YOUR first threesome, want to roleplay, engage in some BDSM or are looking to spice up your sex life with your partner, remember Dennis Hof's famous quote: "It's not just sex, it's an adventure!" Before my "adventure," I spent some time on the Bunny Ranch website and met a beautiful blonde, tattooed courtesan who I booked an appointment with. This not only helped make the experience more personal, but it was great knowing I had someone who was eagerly awaiting our experience together. You can't talk "business" before you arrive at the Bunny Ranch, but you can at least have some nice conversation online beforehand to put your mind at ease and to get you even more excited as to the adventure that awaits you.
…Or Just Wing It!
Okay, so maybe you're thinking "hell, the courtesans at the Bunny Ranch are all incredible, I'm just going to show up and see what happens!" That's fine, too. when you first arrive, you'll enter through the controlled access gates – there for your protection and that of the staff – and be greeted by a lineup of beautiful women who are ready to give you a complimentary tour of the brothel before you decide to party with them and/or another courtesan that catches your eye. No matter how prepared you may think you are, NOTHING will prepare you for the lineup! Staring at anywhere from a half a dozen to two dozen beautiful women who want to party with you isn't easy, even for the most confident guy or gal. Although I had my one party lined up in advance, I did have the chance to experience the lineup a couple of times. It was awkward to not only having to choose one courtesan over the others, but I also felt, in a way, like I was "rejecting" the rest. Don't let yourself feel this way; the Bunny Ranch courtesans are trained to show any potential clients an amazing time, and you may just find yourself parting with your second (or third… or fourth…) choices as well at some point during your visit.
…Or Both!
While I had made an appointment with the courtesan of my dreams prior to my arrival, my experience was so incredible that we partied again the next day… this time my "dream come true" threesome with her and another beautiful courtesan! You may have an idea of what you want in mind before you go, then arrive and find you want something slightly different. That's okay, too – remember, the ladies are well trained in fulfilling desires and in leaving you wanting to come back for more.
The Atmosphere
Once you're past the initial "hustle and bustle" of the lineup and have partied with your courtesan, the one thing that really surprised me was finding the Bunny Ranch parlor to be a rather chill and relaxing atmosphere. When in between parties, I often found myself casually conversing with the staff and courtesans, who often interacted like friends and family as opposed to co-workers. The courtesans at the Bunny Ranch don't treat each other like competiton, so you'll often see them chatting it up, singing karaoke or finding other ways to have fun, often with the clients joining in as well. What amazed me the most about the courtesans at the Bunny Ranch was their ultra-friendly, outgoing personalities and willingness to please. While I was understandably nervous when speaking with each of my courtesans before partying with them, they quickly made me feel comfortable and welcome, as if I was a guest in their home… unlike many of the gentlemen's clubs I've reviewed, in which the "hustle" often sours the experience.
Amazing Amenities
I started out my first party exactly as I fantasized it… champagne in the Bunny Ranch Jacuzzi with my dream courtesan, followed up by an unforgettable party in the VIP suite. What you may not be aware of is the amazing amenities that the Bunny Ranch has to offer to ensure a sensual, erotic experience for even its most discriminating clientele. Pool, Jacuzzi suite, VIP room with dancer pole, full bar with friendly staff… the Bunny Ranch aims to make your visit as exceptional as possible.
Pre-Party Safety
Safety – for both the client and the working girl – is paramount at the Bunny Ranch. The state of Nevada has numerous sexual safety laws in place that the working girls readily comply with. While mandatory condom usage is a no-brainer, the most awkward experience, for me, was the courtesan performing a health check – lowering my pants and wiping me down – before our party. This may not be the most romantic way to start a party but, in the end, the awkwardness felt was quickly forgotten as my courtesan was certainly ready to have fun… and it was reassuring to know that I was being intimate with someone without the STD concerns that usually accompany any sexual experience.
In Closing…
Despite everything I've written, you'll need to visit the Bunny Ranch yourself to truly understand the incredible experience that awaits you. Relax, go in ready to have fun, treat the ladies with the same courtesy and respect that you'll receive from them, and you're guaranteed to have an experience that you'll never forget. Still nervous? Don't worry, it will quickly pass… the courtesans of the Bunny Ranch will certainly see to that.