Sploshing — What's It All About?
Posted by Cherry Lane on January 24, 2017
Are you ready to learn about the food fetish you never knew existed? It's all about having fun with food! Yes, actually getting off to food in every weird way you can imagine! Fighting with food, over-eating food, tossing it around—you name it! It's known as a wet and messy fetish or WAM, and is often called "Sploshing." This is a very off-beat form of sexual fetishism when someone—male or female—get's turned-on when tons of food is put on their skin, face, and even their clothing.  It's even popular enough that there are several websites devoted to WAM.
Extreme Germaphobes and even some bakers might not get it, but to those that are into this type of sex-play, a perfect evening is spent rubbing vanilla-scented cake batter all over their junk. And you should know it's not just liquid pastry stuff that gets these people hot and bothered—but, food, sludge, mud, slime, motor oil and any other goopy substances that might push the envelope of health code violations, all fall under the big tent of liquid fetishes. Indeed, it's a purposely vague concept for what can be an unending category of sexual needs and passions.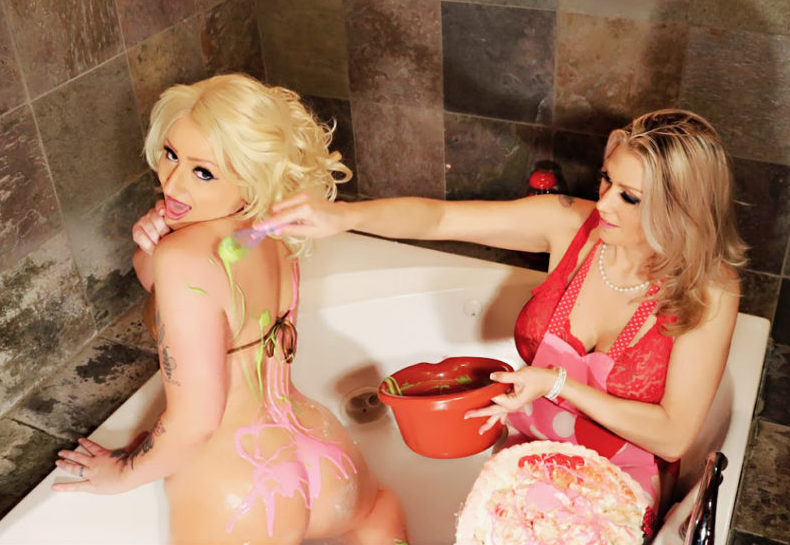 A lot of people who love WAM fetishes are aroused by the tactile sensations of wet or messy things against their skin. Other individuals actually prefer the sight of others getting messy or wet. Typically a willing person will be pelted by cream pies, eat them whole, or even sit on one!
It's not only the feeling of slipping over someone's body with the aid of gunky food or gunge—Sploshing also means being aroused by the sight of this happening. Exhibitionists get to show off their bodies with the added "bonus" of the drooling mess oozing down cleavage, through crevices, between labia lips, and over the face—with the onlookers getting to soak this all in. To them it is a glorious technicolor rainbow of corrupted foods and ruined clothes, and one big ruinous pile of squelchy squirty perverted participants who get a taste—or feel—of just about everything.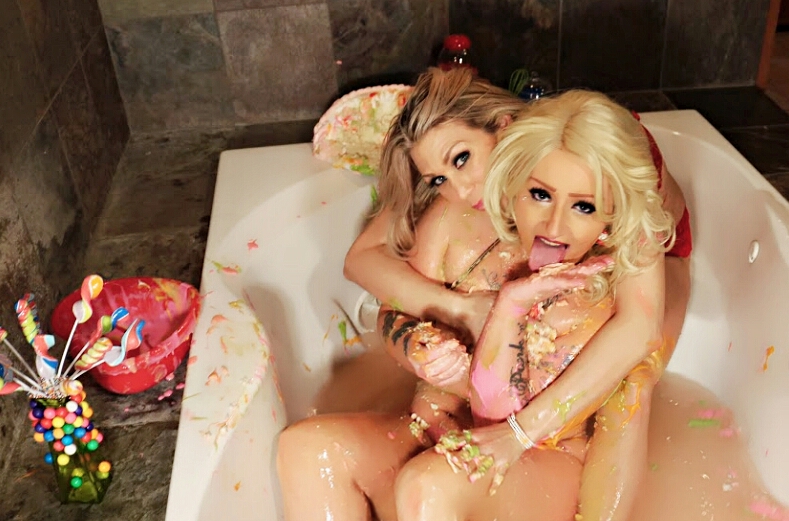 Although most Sploshing fetishers would picture the ideal Sploshing scene as heavily laden with oozing edibles and other large amounts of goop or slime covering naked or almost naked bodies (ie, mud or jelly wrestling), I don't think this always needs to be the case. 
Have you ever tried food sex? I don't mean having sex with a zucchini or an ice-pop, I mean introducing sex-friendly foods into the bedroom either with your partner or without. Admittedly it's more enjoyable with another person, because trying to sensually lick yogurt off yourself is quite a challenge. Both to lick the yogurt off yourself, and to find it highly arousing in the process.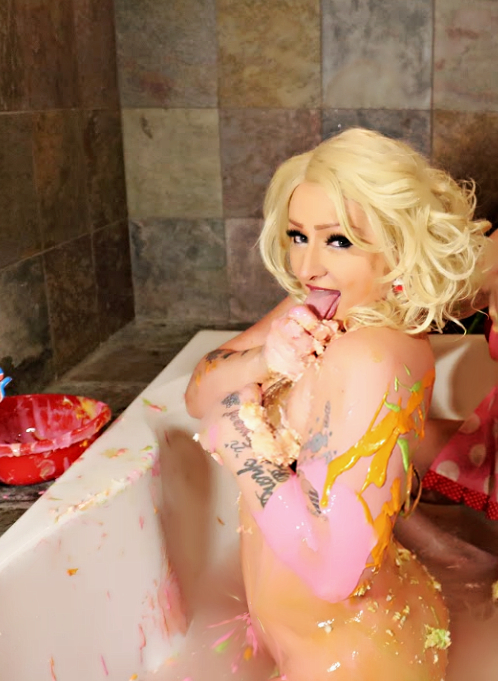 Foods which are famous as being sensationally sexy for more adventurous sexplorers tend to be dairy-based (sorry vegans!). They're semi-solid and would appear perfect for erotically drizzling over a lover's body and licking up without making too much of a mess on the sheets. Whipped cream, jello, yogurt, custard, ice cream and cake batter… these sweet treats feature in the fantasies of the food-sex uninitiated. Jelly is another favorite, especially if it's not submerged in, rather than just foreplay on the bed. There's even entire fetishes devoted to sitting on cakes. Once you've tried dairy food sex, had the hot shower and smelled like a dairy farm for a month afterwards, you tend to reevaluate your food sex-choices.
There's an extra kink component here as well. In dominant/submissive role-play, particularly in Femdom but also seen in other D/s—squishing soft gooey objects under bare feet is incredibly popular to watch. Maybe this partly comes from the decadence of foot-trampling of grapes to make wine, or for others it could just be an off-shoot of trampling or foot fetishism. Whatever the case may be, there are kinky folk out there who just love to see ripe fruit, cake or any soft food trodden under a barefoot until there is nothing left.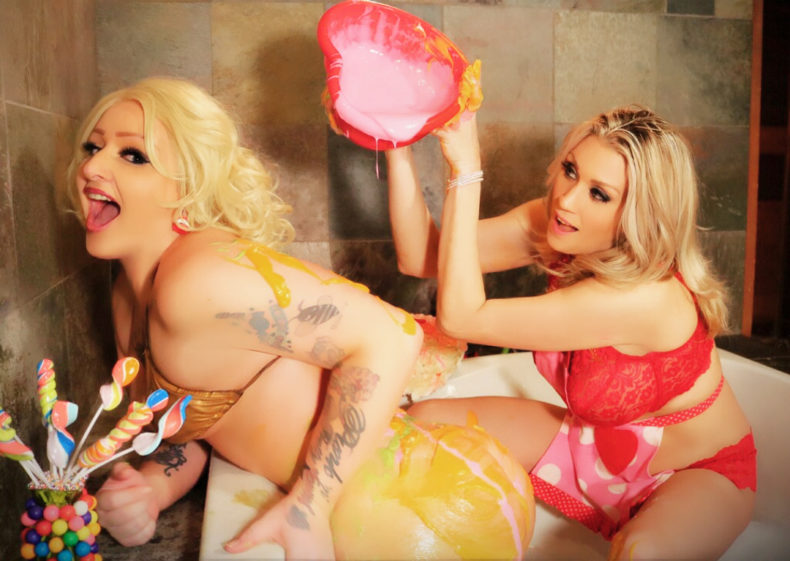 Speaking of fruit…
Fruit can feel cold on the skin but doesn't leave a horrible stench afterwards, so it's worth the goosebumps. Some fruits are acidic though, so be careful what you drizzle/insert into yourself. Bananas are probably not the best to use unless you're going for the peel, quick dip, suck-off and eat method. Not the mash-up in a cup and use as a body mask method. Small, fresh berries such as strawberries, grapes, raspberries and blueberries can be sliced or used as whole to insert (vaginally or  orally) then tongue-scooped out by your partner. Or they can be eaten from a lover's body blindfolded, with your handcuffed partner seeking them out with tongue alone. How about the one wearing the fruit being bound and blindfolded, or neither in bondage and blindfolds—but hey, if the option is there, what the fuck, right?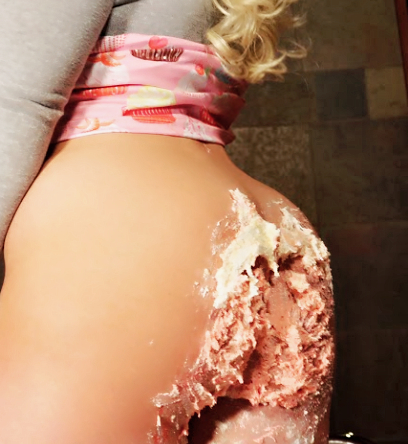 Sooooo…that's Sploshing in a nutshell! Is this something you'd ever want to try? Would you "stick" with licking a squirt of something off your partner before sex, or perhaps nibbling a slice of strawberry from off their tummy, or would you go all the way with a tempting vat of custard, string bikinis and a banana dildo? Either which way, this is one sexual experience you need to try at least once… what do you have an appetite for?