My Overnight Callers Are Treated to Breakfast Next Morning On Me—And I Mean Literally—On Me
Posted by Cherry Lane on April 18, 2018
There's a special service I provide to the gentlemen who spend the night with me. The next morning, I make them a sumptuous breakfast. Waking up to a beautiful woman making you a good meal is always a good thing, but it's my method of presentation that makes the experience special.
I don't serve the food on a regular table. I serve it on my naked body. Before you wake up, I will have showered and lightly powdered and scented my body because I'm a classy lady whose chief desire is to fill your nostrils with sensual joy. Men love it when a woman makes herself so elegant for them.
I will have these foodie delights waiting for you on a rolling cart next to the bed: pancakes precut into triangular sections, pats of soft butter, a pouring container of maple syrup; and a selection of fresh and colorful fruits: strawberries, blueberries, raspberries, dried apricots, green, black, and red grapes, cherries, and banana. (I usually leave out prunes because they're a little too sticky, and frankly, not as aesthetically pleasing to look at.) It's up to you to decide how you would like to arrange all these lovely delectables on my body. Make me your live model of culinary art. (When you're finished placing all the pieces of your creation, I have a digital camera and printer you can use to record and print out a visual memento of my food-decorated body that you can take home. Or, bring your own camera to shoot a photo.)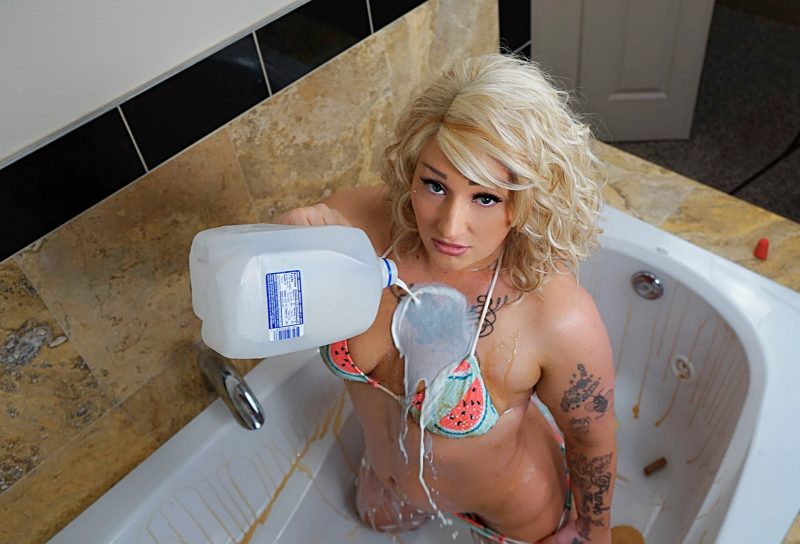 For example, you could lay out the pancake slices in an exciting pattern around the mounds of my breasts, the points pointing at my uncovered nipples. That warm syrup can be tastefully drippled on the flapjack slices, which will make me feel so comfortable and sexy.
Some of my clients ask to slice up the pancakes into shapes of their own design. One man very creatively shaped the pancakes so they looked like the cups of a lacy brassiere, with some fringing at the bottoms. Another fashioned the flapjacks into smiley faces on my breasts, with my nipples being the noses. I thought it was rather sweet. Where we're little, adults tell us not to play with our food, but when we become adults ourselves, we can do anything we want!
And now for the fruit platter. This time, for a maximum mixture of sensuality and vivid, bright colors, you could carefully position the sweet stuff all over my reclining body. Make me your living garden of fruit. I can lie still and level for long periods of time, so, for example, the green, black, and red grapes won't roll off onto the carpet. One playful fellow used the grapes like marbles, and my stomach as the playing field. He'd flick one grape at another, and any that rolled out of the circle he deftly caught and ate until all the grapes were gone.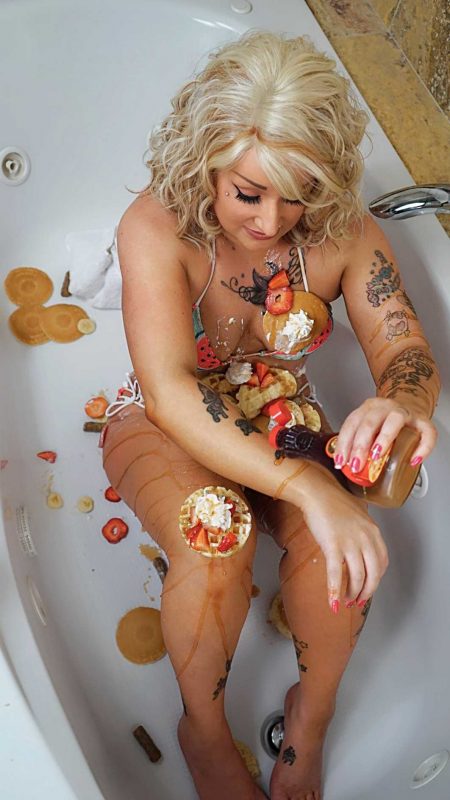 Considering the time and attention they pay to fashioning their edible "compositions," sometimes I think my clients have artistic aspirations. Of course, away from the LoveRanch, a man could make a painting or drawing of a nude woman covered in fruit—and many have, of course—but isn't it so much more fun to practice on a live nude model like me?
Here's an idea that appeals to my love of colorful foods: Make a "belt" across my tummy with some strawberries sliced in half, matched with a "buckle" of blueberries arranged in a circle around my belly button. And here's a variation: Because strawberries and bananas go so well together, the fruit belt could feature alternate placings of strawbs and banana slices. Or, you could slice a banana right down the middle, and position the halves under my breasts for a push-up bra effect.
Let's not forget our raspberries and dried apricots. One client with a military background gently balanced the raspberries upside-down on the dried apricots, which he had lined up in neat rows on my rib cage, like soldiers awaiting a general's inspection. After he finished setting up "the troops," he stood up, placed his hands behind his back, and then walked around the bed, making serious faces as if he was a superior officer appraising the neatness of the lower ranks. When he completed his "inspection," he ate each raspberry-and-apricot combination with great seriousness, saying things like "Thank you for your service" and "I'm proud of such fine fighting men!" I have such imaginative clients!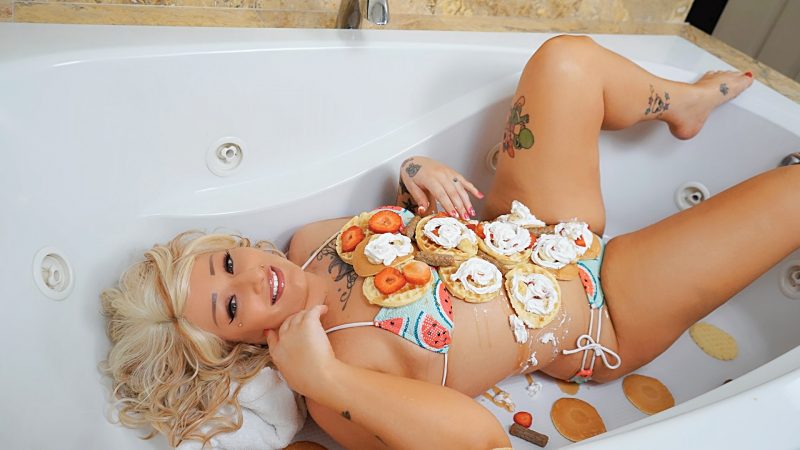 One of the nicest things a guy every did for me was to take a bowl of black cherries from the bedside cart and spell out C-H-E-R-R-Y L-A-N-E with them. And then he ate every cherry.
Most of the overnight visitors to whom I offer my special morning-after breakfast treat usually devour the food off my body bit by bit, but there are others who like to get wild and crazy after setting up the goodies, because they're into sploshing, which is the messy spreading of food across the body to increase arousal. For such clients, I only request that they let me know that they'd like to splosh me so I can cover the bed with a plastic sheet and have some towels ready to wipe off the mess when we're done.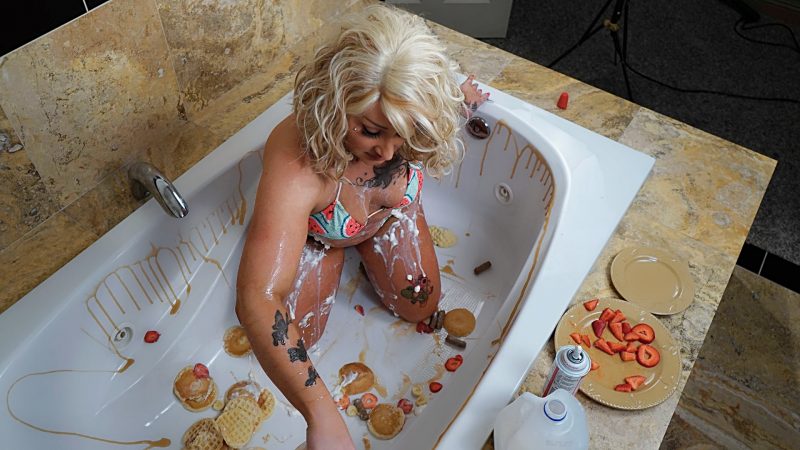 When we're ready to make a happy mess, fruit works so well and blends into such lovely colors. I tell my sploshing fans: "Take your palms and mash those fruits right into my skin. Smear them. Mix them together so they look like you've applied body paint. Spread that delightful fruity hodgepodge everywhere on me." On my creamy skin, the mixed-up fruits make me look like a living abstract painting.
If you'd like to book an overnight stay with me, followed the next morning by the sexiest day-starting meal you've ever enjoyed, send me an e-mail at [email protected]. Let's plan an erotic menu for our encounter!