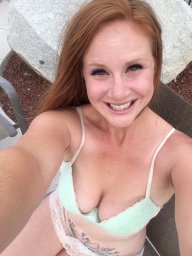 Gender:

Female

Birthday:

Mar 27, 1985

(Age: 34)

Location:

Occupation:

Memory Maker
cinnamon
Making Memories, You'll Never Forget!!!, Female, 34, from Kit Kat Ranch
I'm your Redhead Girl Next Door, Ultimate Girlfriend, Sensational Lover!!! Jul 17, 2016
Loading...

Loading...

About

Gender:

Female

Birthday:

Mar 27, 1985 (Age: 34)

Location:

Occupation:

Memory Maker

For those who are curious I would like to share little more about myself. I was born in California, but raised in the Reno Sparks area all my childhood; (I still claim all the California girls songs though) haha! I lived in Clearwater FL, Sioux City IA, and Casper WY for a little bit too. Reno/Tahoe is where my heart is and I don't want to move away again. Lake Tahoe is my favorite getaway place. I am Aries (fire sign). I am an all natural Redhead with long hair and Deep Blue eyes; blessed with a creamy white skin tone. My height is 5'5''. My breasts are all natural, and I have been told by Victoria Secret that they are 36 C or 34 D's when I get measured. I am blessed with a bubble butt, to match my bubbly personality!!!

People love my Big Warm Welcoming Smile that I seem to always have. I been told red heads are fire crackers and short tempered, but that isn't the case with me. Everyone says that I am a True Sweetheart and one of a kind, and always leave a memorable impression. I'm the ginger with a soul! (lol) I can't stand rude or negative people. I am a sweetheart and help others all the time, almost to a flaw. I'm the type of girl who will pull over to assist others broken down, who will shovel the snow and rake the leafs for the elderly in my neighborhood. I love all animals and always rescue lost dogs and cats, even on the freeway! I used to own every kind of critter, from Tegu lizards all the way to horses!

You'll never see me rude or making others feel pressured or uncomfortable, I'm very good at putting you at ease. I believe this is because I was bullied so badly in grade school! It's kinda the ugly duckling story I guess. Being a poor redhead freckle face dork growing up was extremely hard. I was bullied for being a good girl in school, not a straight A's good girl, close to it though. I would always try my best and go by the rules. By the time I hit Middle School all the boy that were bullies and mean to me, started flirting with me and wanting to date. Never knowing about brothels or the industry, I started playing with myself in middle school, mostly with my shower head hehe. I always pretended and imagined it was with the guys that bullied me, and that they were paying me to have sex with me and making appointments. Lol; now look where I am at!!! I never in my life imagined I would be working in this amazing industry, becoming the Ultimate GFE and Sexually Satisfying others (and my own) nympho tendencies. I'm very happy to be living my fantasies and helping others to do the same!

I have always been different and unique than others and in Elementary School, everyone picked the violin to play, I chose the Cello and was the only one in my class that played it. Big mistake! It was scary when we did performance, as I had my own solos, and was very nervous, as I was shy. In High school I was in Z club, they are the high school version of Zonta, a womens' charity group. I would dress up as a clown and go to childrens' hospitals and retirement homes and volunteer my time doing things like painting their nails, provide companionship and cheer them up! I was picked and did two egg donations and brought happiness to others who were less fortunate. It's always been my calling to help others and make them smile. I'm a natural nurturer at heart.

Growing up poor, I started working at age 14, my first job was waitressing on the weekends. i was a hard worker and reliable teen. I learned to earn everything myself! I never had a easy go in life or had things handed to me. I became very well rounded and worked in many industries. I was an Underwriter for a Real-Estate company. I also followed in my moms footsteps in the Workers Comp Industry and was the Head Coordinator for the State of Nevada. I have been a Caregiver, done my fair share of Sales jobs, and I have even worked on cars ( that's right guys, this girl can change your oil and has built a 383 stroker!!!) Cocktails, Waitressing, Marketing and Managing Restaurants have always been my favorite jobs to fill in between careers, as I am a people person.

One day while waitressing (when i was 19) Madam Suzette and Dennis were patrons at a restaurant I was working at! Suzette was always dressed up and looked beautiful. I finally got the guts to ask them what they did for a living, and they told me, "they own a ranch." I, still having no idea about the industry, naively said, "oh my god, I love horses!" lol they had a good laugh and told me the kind of ranch they owned. They also told me I would do great in the industry, which sparked the idea in my head (yet I knew I was too shy and I couldn't do it then).

I always wanted to join the Air Guard, however, due to health issues and personal reasons I couldn't. I always appreciate and thank those of you who do fight and protect our country and just amazed by the heart you all have! (let me show you my appreciation by offering my military discounts)

I earned my certification for Wedding and Event Planning, and pursued that career for several years. It was difficult for me to experience working for others Wedding Planners: not seeing their passion, feeling like they weren't and going above and beyond to make sure the special day was as special as it could be; I found it to be disgraceful. I know I can and will do it better! I didn't want my name dragged down with these so-so Planners.

Later, I went to school for Insurance industry, and got my property casualty license, but found it wasn't the job for me. I love to make people happy and couldn't stand the way insurance companies weasel their way out of things and couldn't be someone who had to let my customers down. (no offense to those in the industry, just wasn't for me.)

I also always been an inventor at heart, and sadly wasted a lot of time money into my inventions and ideas, and was strung along.

In the end, Wedding and Event planning is my dream job. This is my goal, and why I am a Lover at the Love Ranch, to eventually build up enough money and open my own Wedding and Event planning business. I'm enjoying working at Kit Kat Ranch very much and don't plan on or see myself going anywhere, until I feel that my goals are met!



I really enjoy horseback riding, camping, Snow shoeing, boating /jet skiing (lol I am the king of tubing, no matter how hard you try this girl doesn't go down!) I love just about anything fast! I used to ride quads and love motocross, still have all my gear, for those of you who want to take me! I am the perfect back of a bike trophy, and know how to ride with you and not against you. As a teen I was a little drag racer! I enjoy cars and working on them! It all started, because I was sick of being dicked around by the shops and swore to never feel hopeless again. I asked my grandpa figure if I could help him turn wrenches and gain some knowledge which I really enjoyed! Again come see me for a sexy oil change, and let's break in the car hehe, PS. Big Trucks make me Wet!!! I love Lake Tahoe everything about it, sight seeing, picnics , the Miss Dixie cruise, to snow boarding and snow shoeing, can't forget good old fashion camping.

I lived in FL, IA, and WY for a few years, but beautiful Lake Tahoe always brought me back to my home town, Reno/Sparks. just can't resist the beauty and memories I have made there!I l am always enjoying the beauties in the outdoors. I have bit of a green thumb and love flowers and plants, even had a garden. I love rock/shell hunting and go to Crystal Peak out side of Reno often. I would love to go to the Opal Mine Out here sometime! I seen some of those beauties that others have found out there.

I love arts and crafts, some of my favorite artists are Thomas Kincade and Michael Gordard. I make beaded anklets and always love trying to craft ideas. But beading is my favorite! Even though I'm arts and crafty, I still have a lot of love for Hockey!!! I'm a huge San Jose Sharks fan, I get really excited watching these games! I grew up on Ninja Turtles. Made my own Ninja Turtle Halloween custom, and even won the costume contest! Some shows I am into are; Dexter, Archer, True Blood, Walking Dead, and Desperate Housewives. I love a good comedy or scary movie, or even better, Stand Up Comedy! I like just about every kind of music, yes even country. Lol. Everyday while I get ready for my shift , you will often catch me laughing in my room all by myself listening to Stand Up Comedy on Pandora. I love to laugh and enjoy how I feel after a good laugh and ready to start my day on a happy note. My favorite food by far is Sushi and Seafood. My favorite colors are Teal/Baby Blue, Green or Purple. My favorite Flower is Star Gazer Lilly, I just love how they smell and look exotic and unique as me.

I am very opened minded to all parties, However my favorite would have to be GFE parties! I am a very sensational and caring lover. I love giving and receiving massages. Kissing and cuddling, oral and just having a more personal connection with my lover, creating more spark and passion. My ideal date would be Going out to Lake Tahoe for the day, Dinner, playing around in the casinos and of course one on one time together in the room. It doesn't all have to go in that order! We can always takeå breaks in between each schedule to play! hehe We can even use our driver and start from Kit Kat Ranch all the way to Tahoe. I also think a date to any stand up comedy or a sharks game would be amazing!

I aways believe you never know what people are celebrating, I strive to treat every date and their party as if it's always a big celebration…Well they truly are! Thats why I say "Making Memories" because that's all we really have in the end is our fondest memories, or when things go wrong in life, and you can turn it into a laugh at it memories. Are the ones we truly remember. I love to leave my dates with rememberable memories of our time together and always wanting more!!!

Smooches
Your
Cinnamon

Cinnamon's New Photos




http://www.bunnyranch.com/forum/index.php?media/albums/cinnamons-new-pictures.371/

Cinnamon's Reviews




http://www.bunnyranch.com/forum/index.php?posts/695204/

Cinnamon's Email




[email protected]





Cinnamon's Twitter


@LoveCinnamon1



Interact

Signature


I'm your Girl Next Door, Sensational Lover!!!
Erotic Massages, Virgins, GFE Parties, Out Dates, Couples, 2 girl parties, Im very Submissive, but can switch the roles. I'm a squirter!!! I do anal, I'm into Fetish parties and have a small list of don'ts.
Making Memories @ Kit Kat Ranch!

Always Accepting Appointments


[email protected]


Twitter lovecinnamon1


775-246-9975




CINNAMON'S NEW PICTURES!!!




http://www.bunnyranch.com/forum/index.php?media/albums/cinnamons-new-pictures.371/


CINNAMON'S REAL RANCH REVIEWS!!!
http://www.bunnyranch.com/forum/index.php?posts/695204/
Cinnamons Personal Q & A
http://www.bunnyranch.com/forum/index.php?posts/699118/


​

Loading...

Loading...