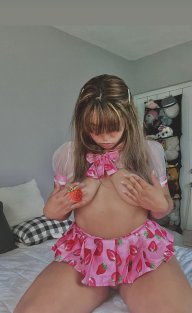 Gender:

Female

Home Page:

Location:

Occupation:

Courtesan
CataleyaLunas
The good girl who will do dirty things to you, Female, from Sagebrush Ranch
Newest Starlet at Sagebrush Ranch Jun 24, 2023
CataleyaLunas was last seen:

Sep 9, 2023
Loading...

Loading...

About

Gender:

Female

Home Page:

Location:

Occupation:

Courtesan

Name: Cataleya Lunas

Email:

[email protected]

Twitter: @CataleyaLunas

Instagram: cataleya_lunas

Age: 27

Height: 5'2

Weight: 170

Hair Color: Brunette

Eye Color: Brown

Bust Size: 34DD

Bisexual: Yes

Kissing: Yes

Fetish: Yes

If I could describe myself in three words, they would be down to earth, open-minded, and thoughtful. Some of my hobbies include drawing, hiking, going to the beach, and watching anime. I enjoy drawing new things, but my niche is people. I am most proficient in realism and black and white art. I also enjoy hiking, being out in nature and exploring is such a relaxing experience. I would consider the beach my second home, I enjoy just sitting listening to the waves as well as going in for a swim. I enjoy snorkeling I think its so beautiful to see the fishes up close. Being able to see there home up close and be a part of it even if its for a short amount of time. I am an anime lover; my personal favorite is isekai. I am originally from Puerto Rico. I am a veteran served our country for 7 years. I am pansexual and demisexual, really enjoy making emotional connections. I am bilingual my two tongues are Spanish and English. I also enjoy shooting it is another one of my hobbies, I am a very good shot.

My ideal outdate would be to go at a restaurant, where we can sit and get to know each other better. We can share our goals in life, our desires, etc. After our meal we take a drive to Lake Tahoe, where we can either go kayaking or paddle boarding. Then we go back to the brothel for a happy ending.

What makes me different from other ladies is that I am very open minded, non-judgmental and willing to give most things a try. I enjoy learning and am constantly learning new ways to satisfy my lover. I am down to earth, enjoy acting innocent and more of a submissive. I am understanding and enjoy teaching as much as I enjoy learning. I am very in tone with my body and can give you all the tips to make me soaking wet. I do enjoy getting to know my clients. I think it is important to get to know each other and connect on a deeper level. Can't wait to make the best out of our time together and give you and experience you will never forget.

I enjoy oral sex, GFE, erotic encounters, half and half, bisexual encounters, bachelor's parties, role playing, sex toys, private sex tape, three-way couple, message with a happy ending, erotic messages, pegging, femdom, spanking, fetish, four fetish, lingerie fetish, pampering, cross-dressing fetish, voyeurism, exhibitionism, splushing fetish.

I specialize in:

-Oral sex, years of experience and knowledge to make you reach climax

-The girlfriend experience we can get to know each other on a deeper level, maybe go out in a date and explore Nevada together or just cuddle and get to know each other.

-Erotic encounters maybe you're not into getting to know each other much and you just want to fuck. I can get on all fours and let you enjoy watching me go crazy for you or maybe you can lay back and I can ride you.

-Couples I enjoy having more then one person in the room and enjoy women as much as men, lets all three get down and dirty. Maybe you're a two male couple or transgender, I like all people and would love to give you an amazing experience.

-Fetish I am more of a submissive and can be you're good girl. I can let you whip me, spank me. Tell me your fetish and I will more than likely be open to the experience. Maybe you would like more of a dom I can change it up and make you be my little sub for the day. Can have you on all fours while I rub myself and force you to just watch.

Interact

Loading...