Hey there! I am Natasha Star, your kink and fetish friendly Starlet at Sagebrush Ranch. Before working here, I never realized how big of a "thing" pantyhose is, and the more I learn about it, the more I love it. I'd like to share it with you, too!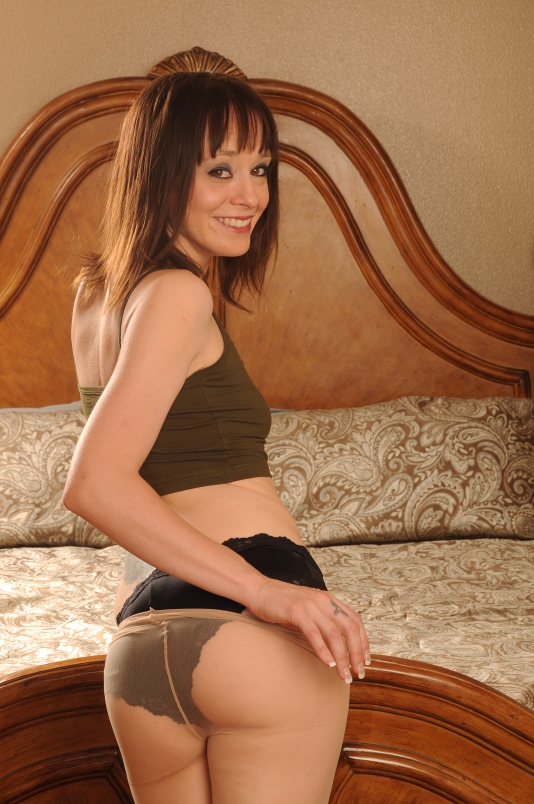 Women tend to either love or hate wearing pantyhose, but the arousal men experience from its sex appeal is common and widespread. Personally, I love turning a man's head as I saunter by in a short skirt, pantyhose, and a pair of high heels.
Nylon pantyhose hit the market in the 1950s, and originally was called Panti-Legs to express the combination of panties and stockings. Allen Grant Sr. developed the idea when his pregnant wife refused to go outside because she grew too large to comfortably hold up her stockings with a garter-belt. (And back then, no self-respecting woman was seen in public without stockings!) This inspired Grant to attach stockings to underwear, bypassing the need for a garter-belt or girdle. But despite the convenience, his idea didn't take off until the 1960s, when models Twiggy and Jean Shrimpton strutted down the runways in pantyhose and miniskirts. Fashionably conscience women never showed the top of their stockings, so pantyhose became the perfect solution for sporting the new mini trend. The market exploded. Soon, women strutted their own pairs, launching new terrain for sexual fantasies.
Let's pause a moment to discuss kinks and fetishes. A kink is a sexual attraction to something not commonly seen as sexual. Kinks are enhancements which rile the hormones, quicken the pulse, spice up sexual play. For some people, these stimulants are fetishes, and sexual arousal becomes impossible without the object desired. Most people remember when they first noticed their kink or fetish, but generally cannot explain why it started.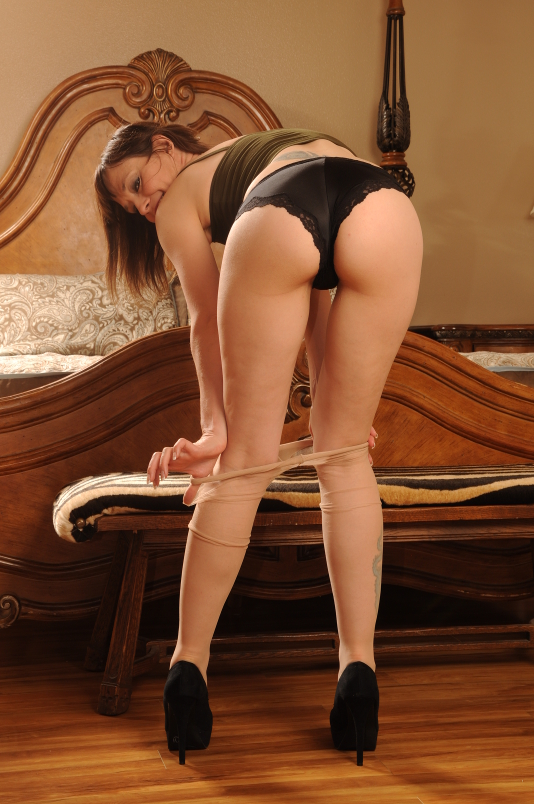 Usually, kinks and fetishes fall into one of two categories: either an attraction to a shape and appearance of something, or the feel and type of substance from which it is made. Pantyhose, however, is somewhat unique in that it tends to cross categories. Devotees are often attracted for both reasons, sometimes simultaneously. In addition, there exists an inherent sexiness when women peel off and slip on hosiery. Pantyhose also creates a unique and specific sound when the legs rub. In these ways, pantyhose also becomes an action-oriented and auditory stimulant.
A pantyhose fetish is commonly believed to develop through "imprinting" during childhood. Especially in earlier eras, a young boy's first arousal often sprung from pantyhose-wearing women, such as teachers and babysitters. And why wouldn't future men develop lust toward pantyhose?
Pantyhose makes a woman's legs appear classy and flawless, with a silky, irresistible smoothness.
Any "imperfection"—from unsightly bruises to veins, cellulite to scars—vanishes beneath the thin barrier between a woman's bare skin and the world.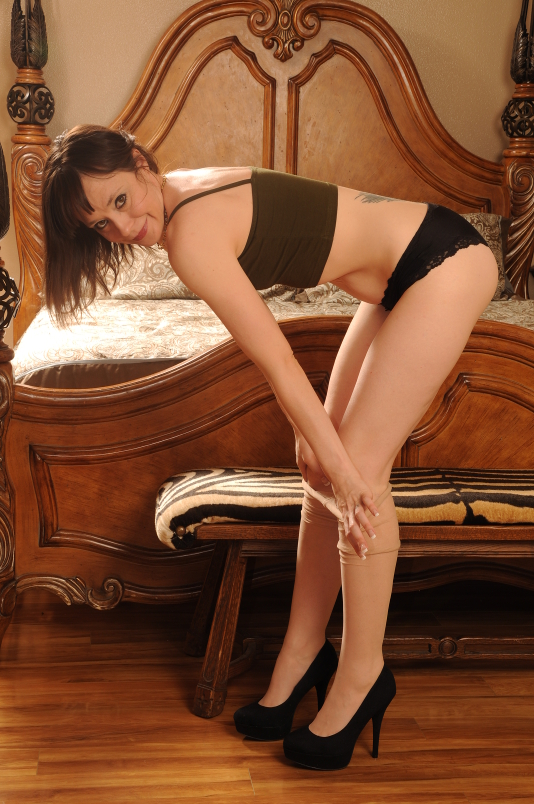 But it isn't just the illusion of perfection which gives pantyhose their seductiveness. Pantyhose fantasies are virtually limitless.
Unlike stockings, pantyhose touches a woman's genitalia, creating desirability and visual appeal. Ripping a hole in the crotch and tearing it away for access is symbolic of penetrating a virgin's hymen. Ripping can also create safe feelings of control, destruction, and force. All of these create boundless potential for fantasies, role play, and naughty fun.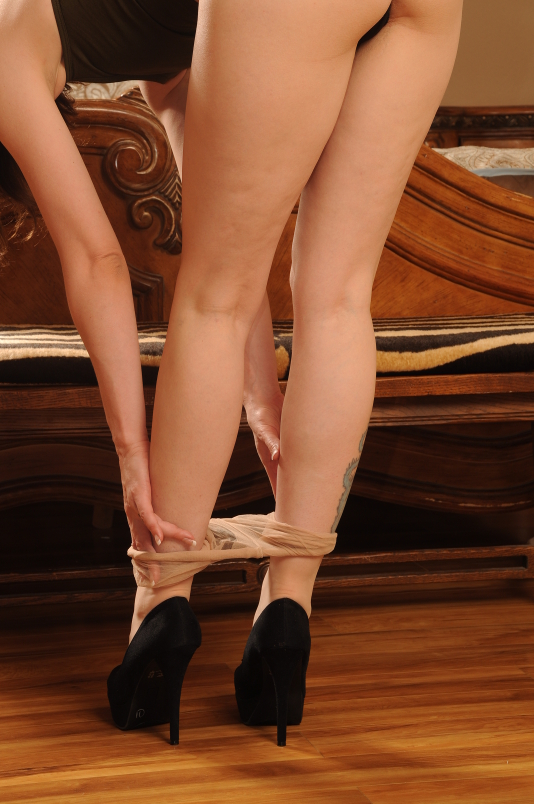 Men are visual creatures, thus visual elements usually create powerful responses. Pantyhose tend to make legs appear longer, slimmer, and smoother … an especially delicious eye-candy that can cause the male brain to enter overdrive. Which actions do you find particularly alluring? A woman sliding pantyhose up their legs? Rolling them down? Maybe the asymmetrical look of removing only one leg, enticing with both stocking and skin? Or perhaps the sway of a skirt against nylon as she saunters away? Personally, I love feeling pantyhose slip over my legs, and I love spreading my polished toes beneath their sheerness.
Pantyhose mixes well with other sexual preferences, such as foot and shoe fetishes. High heels slip on and off pantyhose much easier than flesh, and rubbing nylon across skin creates tantalizing sensations. A foot job with pantyhose creates a different feeling on a man's cock than a foot job with bare feet. Sucking toes through nylon also provides new taste and touch experiences.
But pantyhose isn't just for legs and feet. Do you enjoy BDSM? Pantyhose can be used as gags, blindfolds, or bondage straps. Leg enthusiasts might especially enjoy using pantyhose to bind ankles, wrists … whatever your imagination can conjure. Many men also enjoy slipping them on themselves, feeling the tight silkiness hug their legs, the nylon gusset cupping their crotches. This ties pantyhose into playtimes like cross-dressing, sensation play, or humiliation parties. Pantyhose is also wonderful during role-play. Let me slip on a pair of pantyhose and become your teacher, your babysitter, your secretary, your nurse …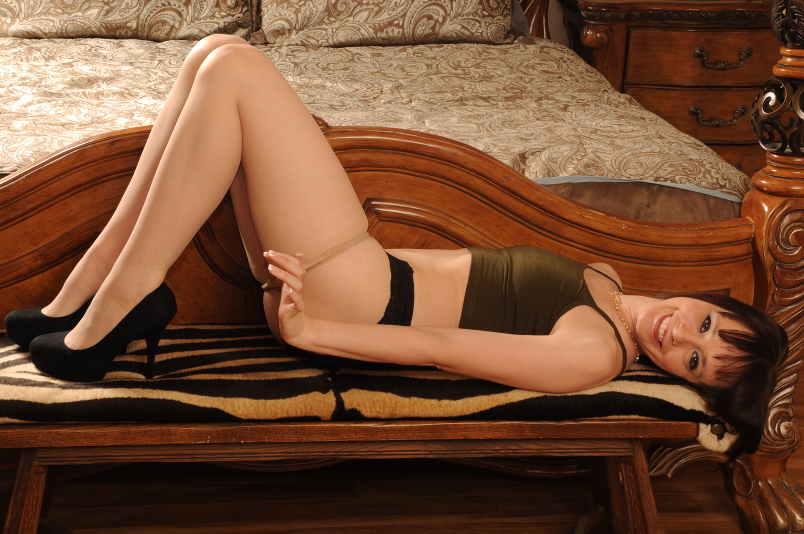 So, what are your thoughts on pantyhose? What images or memories developed while reading? Are you someone with a hosiery kink or fetish? I love exploring desires! Please contact me at [email protected] if you enjoyed my article or would like to explore this subject further!