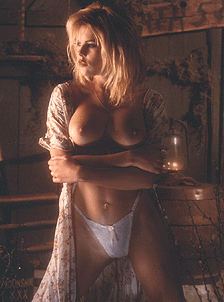 The wildly erotic Sunset Thomas, star of over 150 adult films - including Michael Ninn's award-winning Latex and Sex, Parts 1&2 - is the first video vamp to openly acknowledge her move into legal prostitution. And she'll debut her classy 36 D-24-36 chassis this summer at the Moonlight Bunnyranch, one of Nevada's premiere legal brothels, located on the outskirts of Carson City, some 30 miles south of Reno. There, Sunset will sell her flesh for fantasy from July 14th through the 19th. And as can be expected, her fans are ecstatic.
"It's a brothel breakthrough," says Bunnyranch owner Dennis Hof who has successfully negotiated with a number of top notch porn stars to follow Sunset's guiding light, including sexual lunachick Anna Malle and the alluring Devon Shire. "Now fans of these stars don't just get to see them at club dates, autograph signings, or in porn flics. They finally get to have sex with them, up close and personal, and perhaps make a longtime dream come true."
A bit about Mrs. Thomas (yes, she's married): Born in Saxton, Mississippi, the 26-year-old porn star grew up in Daytona Beach, Florida ("But I'm a Texas girl all the way.") A former Penthouse Pet of the Month, she's currently known in the adult film industry as both "the Princess of Porn" and "the Texas Twister." Some of Thomas' other films include Double Penetration Virgins #1, Gang Bang Fury #1, Gang Bang Thrills, Amateur Orgies #16, Anal Avenue, Anal Ski Vacation, Biography: Sunset Thomas, Sunset Rides Again, Sunset In Paradise, Muffy The Vampire Layer, Lesbians In Tight Shorts, and Deep Inside Dirty Debutantes #1. Sunset currently lives on a 223-acre ranch in West George, Texas with her husband Zach, little Zach, Jr. and seven thoroughbred horses.
Although fans actually fucking their porn idols on video is nothing new (check out fan-fuck porn titles featuring Nici Sterling and Christi Lake), I was still interested in finding out, among other things, how the blonde porn beauty feels about working in a legal whorehouse. Sunset and I spoke at the Moonlight Bunnyranch shortly after she'd finalized her agreement with the brothel.
So, Sunset, what's it like making hooker history?
I'm a little nervous. I've never done anything like this before. But I'm very excited and very horny. The idea of having sex with my fans has always turned me on. But everywhere else this sort of prostitution is illegal, so I feel a lot more comfortable doing it at the Bunnyranch.
How does the adult film industry feel about what you're doing?
They take the position that prostitution and porno are not the same. They think that what they do is better. To me, it's exactly the same. It's a matter of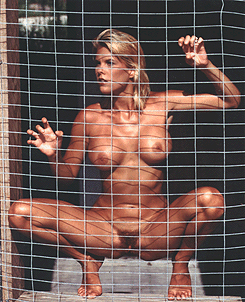 enjoying sex and getting paid for it. Either direction you go, whether it's legal prostitution or legal adult filmmaking, they're one and the same. How can they say they're different? I've gotten a lot of calls from my fans who've seen me dance at Babydolls, a topless club in Dallas...my homeclub. But the fans say, "Oh my God! I can't believe you're doing this. This is like a dream come true."
And now at the Bunnyranch they can experience you firsthand in all your favorite positions.
Yeah, all except anal...which, from what I understand, is outlawed by the state of Nevada. Too bad. But I'll fuck them good, no matter what.
What if one of your fans is a turn-off?
I've never had that problem. I always find something attractive about my fans. The ugliest guy can come up to me and I'll find something pretty about him. His voice...something. Other girls will say, "I can't believe Sunset is giving that guy so much of her time. Why doesn't she blow him off or ignore him?" But that doesn't sit well with me.
That's a good attitude. How about kissing your fans? Hookers usually don't like doing that.
I will if I want to.
And what does your husband think?
It turns him on. That's one of the reasons why we're going there. It's a major turn-on for both of us.
So what words would Sunset Thomas use to describe herself?
Sex crazed. I can't get enough. I was masturbating at the age of nine. I remember taking a bath, slipping under the water, and having my pussy slide right under the faucet. I got all freaked out. Then the next time I took a bath, I purposely put my pussy under the faucet and thought, 'This kinda feels good.' That's how I started masturbating. I still do that...I did it today!...except I've got my own jacuzzi now. I've got it fixed so that one of the knobs just jets right onto my pussy.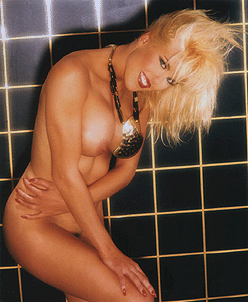 How old were you when you lost your virginity?
Fifteen. It wasn't a good experience. I was raped by my best friend. But the second time around, when I was sixteen, was a good experience. I was nervous about what happened to me the first time, but my boyfriend knew all the moves and broke the hangover I had.
Were you a bad girl in high school?
I goofed off too much and never did graduate. I was into the party scene...you know, I'd cut class, go out and smoke a doobie, and play with guys in the hall. I'd see cute guys and grab their dicks and we'd party. I'm street smart, not book smart. Later on I did coke but never shot up. I was also a speed fanatic, just addicted to the stuff, but I've been clean for eight years now. Zach got me away from it all. I met him at Daytona Beach when I was doing runway modeling in shopping malls and also working as a trophy girl at the race track. He had his own modeling agency, so I went to work for him doing big dinner shows at the Marriott and other hotels. We fell in love, got married, and ran off to California. He told me that one day he'd make me a star...but I didn't think he meant a porn star.
What was your first adult video?
Mr. Peeper's 25th Anniversary starring me, Zach, and Lance Kincaid. That was eight years ago. I was very nervous but was so into Zach that I got over it. I was just a baby back then...eighteen. Since then I've done 155 titles.



Next Page

Cover

Spotlight

Advertisements

Up and Coming

Subscriptions

Public Services

Sex News

E-mail

Archives