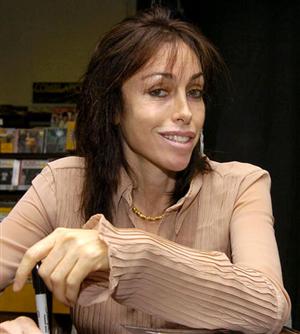 Mark Sullivan
/
WireImage
Fleiss: 'It's always the zealots that go down'
POLITICS
'Dude, These Are Men'
Former Hollywood madam Heidi Fleiss shares her views on Spitzer, prostitution and payment rates.
Mar 11, 2008 |
Updated: 11:13 a.m. ET Mar 11, 2008
If anyone can offer any special insight into the Eliot Spitzer scandal, it's Heidi Fleiss. The former Hollywood madam—who once ran a call girl business that served clients like actor Charlie Sheen and who served 21 months in federal prison after being convicted of tax evasion—says she is not surprised by the New York governor's alleged link to a prostitution ring. "What's the mystery?" she asks. "If the guy wants to get laid, he wants to get laid."

Fleiss now lives in Pahrump, Nev., about 80 miles west of Las Vegas, where in 2005 she announced plans to open Nevada's first brothel for female customers. She's vague about why that hasn't happened, except to say that she's now in talks to go into business on that front with Dennis Hof, owner of the Moonlite Bunny Ranch near Reno, which was the focus of the HBO show "Cathouse." Meanwhile, Fleiss has opened a laundromat called Dirty Laundry in Pahrump. Last month she was charged with DUI and drug possession and is awaiting trial in that case. Fleiss spoke to NEWSWEEK about the Spitzer case. Excerpts:

NEWSWEEK: Does it surprise you that someone as high-profile as the governor of New York would get in trouble like this?
Heidi Fleiss: Of course not. Dude, these are men. They think about sex 98 percent of the time.
When you were running your own call girl business, did it ever surprise you what kind of risks these men were taking?
No. Why would it surprise me?
Well, I'm asking. You knew who they were and …
I wasn't going to tell anything.
I know you weren't, but still, it's quite a risk. Did you ever wonder what was motivating these men?
Well, come on, the guy wants to get laid. If the guy wants to get laid, he wants to get laid. What's the mystery? It's an adult activity.
So if these charges are true, should this be the end of Gov. Spitzer's career?
Absolutely. You can't vigorously pursue prosecuting these prostitution rings—I mean, this guy made a point of it—and then do this. Get that guy out of office. He's a liar. He has no business being the voice of the people.
You don't have any sympathy for him?
Well, you know, who wants a governor who doesn't have sex? That would be creepy. But you can't be a hypocrite and a zealot. He's made prostitution out to be a horrible crime. Obviously it's not if he was doing it. It's just a business that needs to be regulated so the women don't have to always suffer.