Sex and Star Wars: Why Slave Leia is my Most Popular Role Play
Posted by Hannah Foxx on November 7, 2017
As a licensed prostitute at one of Nevada's top legal brothels, I get a lot of requests for erotic cosplay sessions and various types of sexual role play. While the "naughty nurse" or "sexy CEO" seem to be old standards that never go out of style, it's the fantasy and science fiction scenarios that make up the bulk of my role play business. From Game of Thrones' Khaleesi to the ever-popular Harley Quinn from DC Comics, I find myself taking on the role of the sexy characters from imaginative TV, comic books, and film more and more — and, by far, the most requested character I'm asked to play is "Slave Leia," the captive princess from Star Wars: Episode VI – Return of the Jedi, bound in chains by interstellar crime lord Jabba the Hutt, and forced to wear an iconic (and ridiculously hot) metal bikini.
As a Star Wars fan, I have delighted in portraying the character of Slave Leia several scores of times in the privacy of the brothel setting, where my clients can let loose their inhibitions and indulge their innermost desires in a nonjudgmental environment. In the discreet realm of my Nevada sex den, I have experienced first-hand the deep-rooted obsession men have with this classic cinematic sex symbol. From my experiences, I have drawn a few conclusions as to why the Slave Leia incarnation of the Princess Leia Organa character from Return of the Jedi is my most requested role.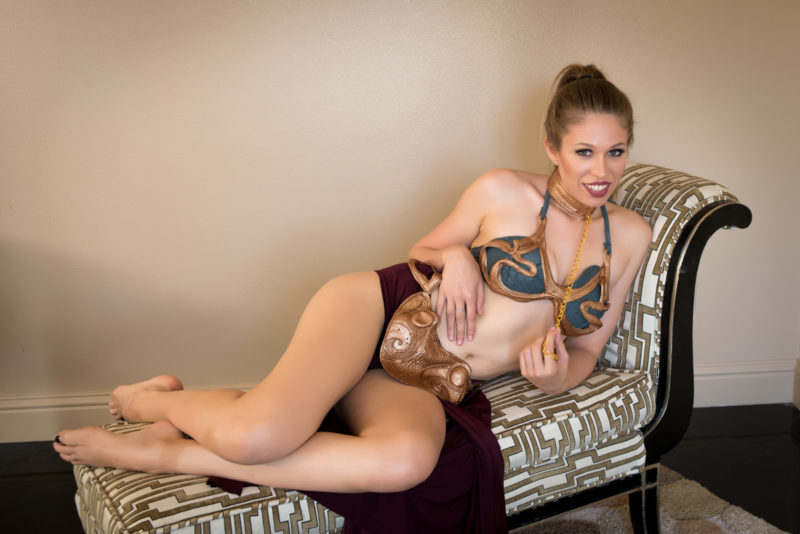 Slave Leia is the sex symbol that enchanted a generation (that now visits prostitutes.)
In 1983, when Return of the Jedi was released, millions of highly impressionable pubescent boys were exposed to the bikini-clad heroine when she was projected on massive movie screens over 20' tall. The overwhelming images of the enslaved beauty were ineradicably branded into the minds of these sexually developing young men, creating a mass psychological phenomenon that significantly impacted the sexual psyche of an entire generation.
Thankfully, these 12 to 16 year olds are now entering middle age, which just happens to be the age of the primary demographic of Nevada brothel customers. It's no coincidence that the vast majority of my Slave Leia requests come from men in their forties. When these composed men first see me walk out from my dressing room in full Slave Leia regalia, I can see their expressions change as they harken back to their first boyhood infatuation and melt like a teenager. Without a doubt, the main reason why Slave Leia is my most popular sex party is because my clientele are at a point in their lives where they can, and choose to, indulge in the fantasies that these customers have been yearning to play-out since boyhood.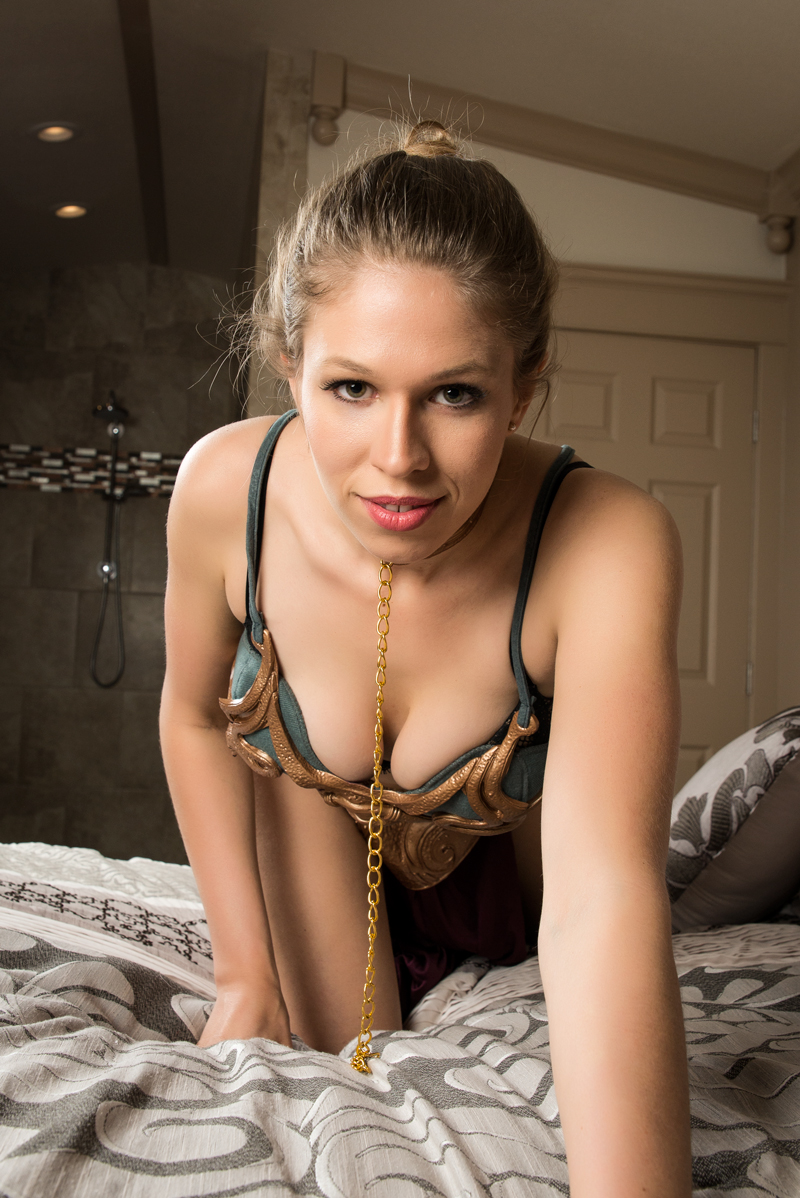 Slave Leia: A damsel in distress, or a BDSM badass?
In 1977, George Lucas introduced us to Princess Leia with the first Star Wars installment. Brilliantly played by the late, great Carrie Fisher, Leia was a female character that was as capable, confident, and courageous as the male characters — if not more so in many ways (in the first film she was already an established underground operative and planetary diplomat.) She was "one of the guys," the female protagonist that a young boy could see himself genuinely being friends with. But Lucas took care to not sexualize the character in the first two Star Wars movies, often featuring her in full military dress or unrevealing gowns (Fisher's breasts were even taped down so as not to be a distraction in the first film.)
So when this bold, self-reliant female character was objectified by vile gangster Jabba and stripped down to her metal and leather undies, it was a titillating shock. The cool girl-next-door filled out — and she was into bondage!
Now that these young boys are adults with a variety of sexual interests, it goes without saying that there is a lot of dominance, submission, and sadomasochism play involved in a Slave Leia sex party. My clients love to reenact the scene from the film that takes place on Jabba's floating sail barge, where the shackled Leia turns the tables on her captor and strangles the villain with her chains. This role play allows for both my client and me to switch from submissive to dominant, so that each of us can experience the thrill of being ravished and defiled by our captor, as well as the devious pleasure of teaching our sexy prisoner a lesson.
On rare occasions, for client's into erotic asphyxiation, I'm asked to recreate the strangulation scenario itself during a sex party. As a BDSM specialist I'm trained in proper and safe methods of breath control to stimulate arousal, so that my client's can get off on playing Jabba's death scene again and again.
Slave Leia is the modern day taboo men just gotta have.
Look, the Star Wars franchise is a Disney property and I'm aware that the films are meant to be enjoyed by "children of all ages." This doesn't change the fact that I have amassed considerable revenue from men paying me to be their personal space slut. Certainly I'm not at fault for doing my job and indulging my client's fantasies, and my clients are not at fault for being turned on by the character. So what "went wrong" in the Slave Leia scenes that turned this family film into a very profitable opportunity for sex workers.
Was Slave Leia a storytelling blunder? Was the character too naughty for her audience? Did the filmmakers go too far by insinuating that the princess was sexually violated by Jabba with the Slave Leia imagery? Regardless, the Slave Leia scenes are inarguably the most controversial item in Star Wars' forty year history. In 2015, it was even rumored that Disney was considering discontinuing Slave Leia merchandise.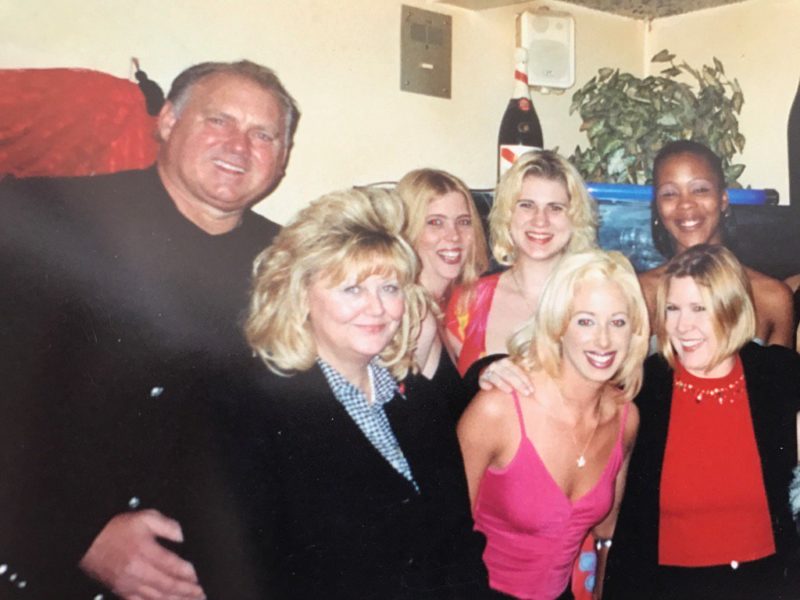 Whether or not you agree that Slave Leia was a misstep that now needs to be suppressed and muted, there's no denying the character's impact on popular culture — or her power to polarize public opinion. In our politically correct era, we have just about made men's attraction to Slave Leia an untouchable and unmentionable topic. In 2017, is it safe for a man to casually say that he would love to play out a Slave Leia sex fantasy? Not likely, for fear that an army of feminists would discredit him on social media and brand him forever as a male chauvinist.
We have forced men's fascination with Slave Leia into the underground, where professional women like me allow my clients to satisfy their longstanding adolescent urges in the privacy of Nevada's brothels. Who would have thought that the galactic adventurer that dazzled millions of cinema fans would end up being a modern day sexual taboo? As Jedi Master Yoda would say, "Always in motion is the future."