Can You Handle a REVERSE GANG BANG?
Posted by Jeremy Lemur on March 24, 2017
The women of Dennis Hof's Moonlite Bunny Ranch and the Nevada brothels that comprise America's Red Light District are capable of fulfilling any and every conceivable erotic fantasy. From all manner of sexual fetishes to intensely romantic Girlfriend Experiences, there is virtually no passionate encounter that cannot be brought about by these acclaimed sex goddesses. But one experience offered by these harlots stands out as being among the most challenging sexual scenarios imaginable — a sex party so extreme that the endurance required to perform it goes far beyond that of the average john. It's the legendary "reverse gang bang," and it's as spectacular as it is exhausting.
A gang bang is traditionally defined as a situation where several zealous men, either all at once or one at a time, engage in sexual activity with one woman. A reverse gang bang flips this in a variety of ways, but it always involves numerous lustful women focusing all of their blazing sexual energy on one fortunate guy.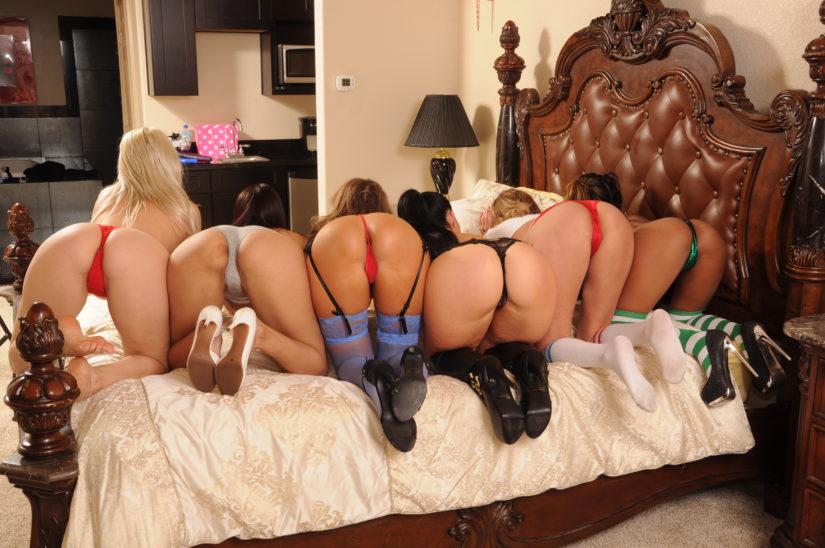 The distinction between a gang bang and other types of group sex is that one subject (the lone male in the case of a reverse gang bang) is the central target of all the other sexual participants. All sex acts are relentlessly performed on one individual.
There are two primary types of reverse gang bangs. The first is a situation where the central figure is the dominant of the sex party (well, sort of…); the second gives dominance to the gang bangers. Both types of reverse gang bangs are incredibly demanding on the client, and we strongly recommend checking with your physician prior to engaging in either version of a reverse gang bang.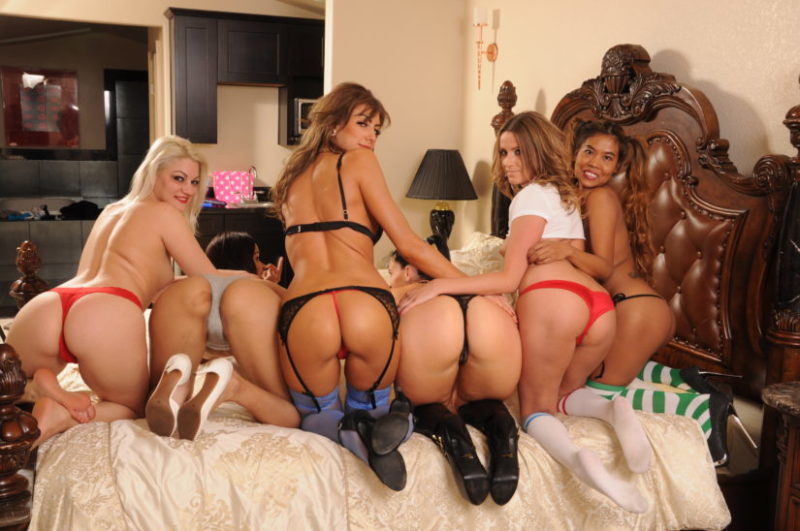 Lucky Guy Takes On Multiple Girls
There's five, six, ten, maybe even twenty girls in your VIP bungalow, striking babes of every race, color, size and body type, and they're all anxiously awaiting your cock. They line up for you and assume the position — a cadre of beautiful booties dripping with desire. Go!
One by one you endeavor to please your harem of harpies. A woman's thighs straddle your neck as your mouth and tongue work her tight moist box, while another of these vixens takes your stern, pumping member between her legs. You can barely maintain your balance as the others grab for any part of you they can get. Fighting for it, women are pulled away from you only to quickly be replaced by another warm wet wonder. Blondes, brunettes, chocolate and porcelain skin, breasts, legs, fingers, feet, tongues, lips — it's all a blur as the incessant sex marathon continues. You try to hold it in as long as you can, but you're engulfed in an avalanche of ecstasy. You explode with joy, completely drained! But you're not done. Your squad of she-devils must still be satiated. Get ready for round two. They'll wait.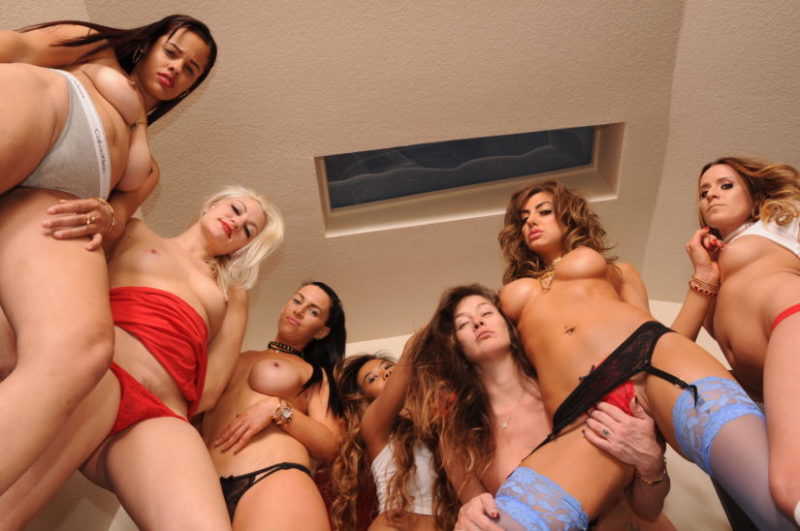 Girl Gang Gets the Best of Sissy
You're naked, gagged, and quivering on the floor of your suite. A gang of gorgeous girls circle your defenseless form and stare you down with penetrating eyes.
"Whadaya think ladies? Are we gonna let this sissy off easy or is he gonna get the full treatment?"
You already know you're not getting off easy…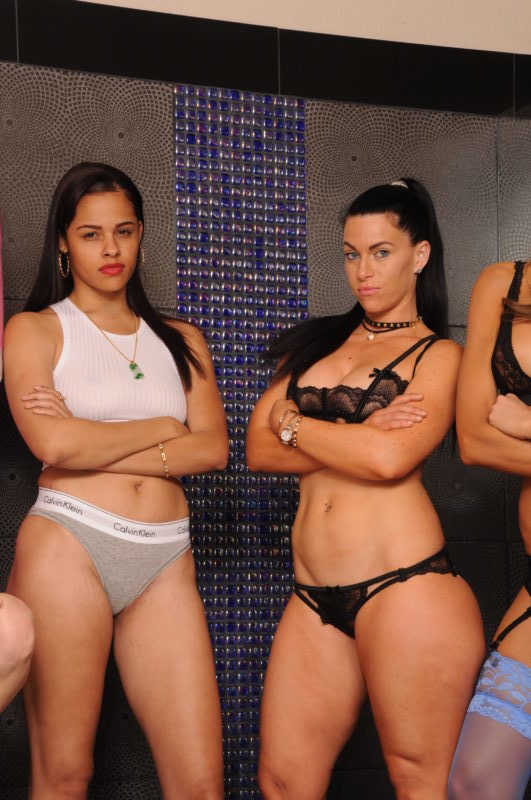 The gang members unzip their knapsacks and pull out a variety of naughty knickknacks: gags, flogs, bondage gear, and an array of strap-ons.
"Take him!"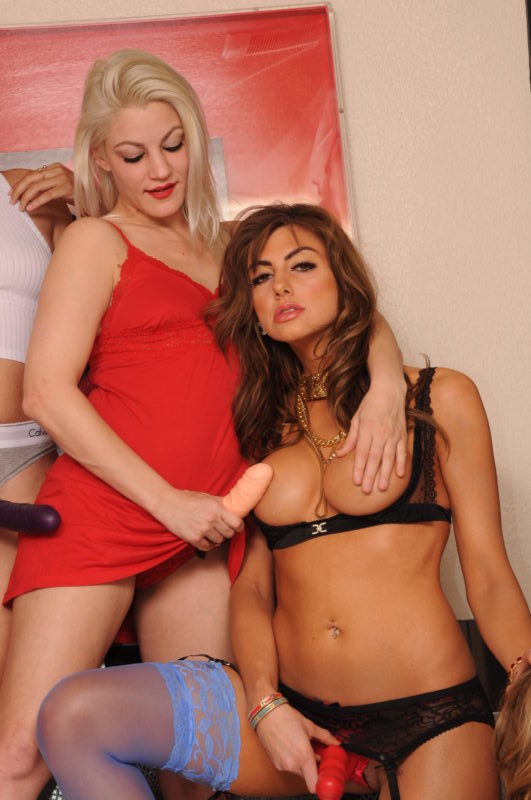 Two of the ladies grab your arms, another two your legs. They forcibly get you into a very vulnerable position and begin to punishingly whip your bare bottom. Again and again, you're rhythmically flogged by one dominatrix, then another, and another. The tingling, tantalizing sensation makes your entire body shiver; a delightful jumble of pleasure and pain. One of the gangbangers notices your shaft beginning to throb.
"I think he likes it. Get the lube!"
Pictured: Randy Ryder, Casey Cross, Anita Bianchi, Summer Sebastian, Aria Arial, Felony, & Chanel Lee