Sunset Thomas Layout in Cheri Risks Magazine Getting Pulled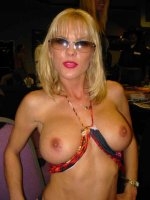 And tell 'em Reuters sent ya. G.I.'s taking a trip to the BunnyRanch. have a piece of free tail courtesy of Reuters in store for them. It was on the news service this week stating that troops returning from the U.S.-Iraq war could take advantage of a free sex offer at Dennis Hof's spread in Nevada. In fact, Hof and Sunset Thomas were on KSEX Wednesday night explaining the unusual circumstances. Hof also put out an alert to readers of Cheri to gobble up the magazine because controversy's brewing over an all in the family layout featuring Thomas and Sunrise Adams, her niece.
Hof: Sunset was getting like a hundred letters a day from military guys deployed in Kuwait. She was answering them all. Finally her and Air Force Amy said you know what? These guys are serving our country, we need to service them.
Sunset: Those guys are over there fighting for our freedom, what can we do? Me and Amy just looked at each other and go, sex!
Hof: Here's what the deal is. Since World War I there's a kit called the TA-50 kit. Any of your listeners who have been in the military picked up a TA-50 kit during war. It's your canteen, it's your compass, it's a flashlight. It's all the things you need in war time. [There's] the BunnyRanch and Sunset Thomas' T&A-50 Kit: By the way the new issue of Cheri Magazine [Sunset's the publisher] is out on the stands- her and Sunrise Adams doing their girl-girl layout. Then there's a BunnyRanch t-shirt condom; a Doc Johnson mold of Sunset's pussy; and six drink totes so that they could get drunk at the bar. That's a BunnyRanch/Sunset Thomas T&A-50 kit. They'll also get a certificate that they can use on any of the girls at the ranch.
Wankus: These soldiers can fuck Sunset Thomas?
Hof: If she's around and she's not busy and she wants to. Actually she went down there and fucked a couple of military girls there last night.
Sunset: They're great. Particularly what I like about military people is that they're in great shape, they're buffed, they're strong. And the military women were just great.
Wankus: Did they have your clit standing at attention?
Hof: Neither of these girls had ever been with a girl before. And Sunset spun both their heads around at the same time.
Wankus: I would love to tear up Sunset Thomas. I would love it! I don't even want to fuck you. I just want to stick it in there and come! What's the response been like so far.
Hof: We're doing two radio station in Philadelphia tomorrow morning and one on Friday morning
Wankus: You don't do those shows like you do on KSEX.
Hof: Nothing is as fun as KSEX. We can say, Fuck.
Sunset: I can say eat my fuckin' pussy. It's cool. You don't have to behave.
[Wankus offered her an invite to come to the studio.]
Sunset: Only if I can run around butt naked and then take a dildo and fuck myself right in front of you.
[Wankus noted that the military are able to listen to KSEX on ships because of Internet access.]
Wankus: If there's anybody in the military listening, what do they have to do?
Hof:: Show up, that's the first thing. In the meantime they can go to bunnyranch.net <http://www.bunnranch.net/> and pull up Sunset's name and contact her through there and start some conversation about it. Tell 'em about the woman who called this morning, Sunset.
Sunset: I had this woman that actually called me. Her son is on a ship right now, on their way back. She said I have one problem- my son's a virgin. I said are you kidding? Bring him out. He e-mailed his mother, I guess, from the ship. He saw the HBO special when the mother brought in the virgin son. That's when he hooked up with his mom and said I want you to take me out there.
Hof: He saw that thing on HBO where the 22 year-old virgin as brought in by his mom. The brother had had Sunset's magazines and movies stuck under his bed. So this kid when he was young found them. That's been his whole fantasy- he just found nothing to match Sunset so he just saved it. This kid on the ship saw the show and said, mom, do the same thing, please.
Wankus: You definitely got to reward him, Sunset.
Hof: Today CBS news was here. And Sunset was reading the letters from these guys. They were just tear-jerker letters. They're going to show it on national news.
Sunset: This isn't all about just getting a big hype on the BunnyRanch. It's something we want to do for our guys.
Hof: What we're doing is challenging everybody. We've done 68 radio interviews in the last three days. What's happened is that radio stations are calling people- calling up the bowling alleys- excuse me, Sunset Thomas at the BunnyRanch, the HBO special? Yeah, yeah, yeah. They're giving free sex at the BunnyRanch. You wouldn't mind letting some of these soldiers go bowling a little bit, free? They've called Dairy Queens. They called this 7-Eleven. This Akmed dude answered the phone. What can you give dem, Akmed?
Wankus: Akmed we killed your brother, do you mind if they fuck for free at the BunnyRanch?
Hof: This thing is catching on. You've got conservative radio guys in 267 cities- do the right thing. If the BunnyRanch can do it, you can do it. It's one thing to talk about it. Let's show these guys we love 'em.
[Wankus then asked Hof about former BunnyRanch girl Kennedy who announced on the Wanker show that she was quitting the Ranch because she had problems.]
Hof: The only problem that Kennedy ever had- we love Kennedy- and everybody there loves her. But she just wasn't motivated. So she just decided that she'd take off for awhile, do a few movies. And they always come back. They lose their motivation and don't make any money. You get gals like Air Force Amy making a half million. Sunset making a half-million. We've seen this a hundred times and it's usually because they get hooked up with a guy. And the guy doesn't want them to work. They get hooked up with some $8/an hour plumber's helper and they don't want the girl to make her $15,000- $20,000 month.
Wankus: Are you calling Johnny Buss an $8/an hour plumber's helper?
Hof: He needs to step up with some of that Laker money.
Before they took off, Hof mentioned that Cheri magazine's current layout of Sunset Thomas and Sunrise Adams, aunt and niece, risks getting pulled off the new stands because of that. Hof urged everyone to buy a copy because it's certain to become a collectors' item.