Spanking isn't a new activity- but it's making a tantalizing comeback here in America's Red Light District! Ladies like myself and friends like Anita (pictured) are receiving more inquiries about spanking sessions than ever before. There's something incredibly energetic and erotic about using your hand or a paddle to spank a lady across her tight and toned behind. The feeling is intoxicating, overwhelming, exhilarating, and incredibly appealing for a wide variety of people. From kinksters who enjoy using paddles and slappers, to over-the-knee bare-handed ass spanking, there's an incredible variety to this one simple bedroom activity. 
Spanking can be its own, stand alone sex party, or a part of a bigger GFE or BDSM experience. Spanking isn't a kink-exclusive activity, and is in fact one of the most pleasurable ways to bring a little bit of space into your sex life! Girls love it, guys enjoy it — it's about time for you to join in and experience the incredible sensation of spanking! Spanking has such an interesting variety of components: you can use your hand or a sex toy, smack hard or soft, quick or slow, and even change where on the behind you're slapping! This creates an orchestra of sensations that will seriously enhance any party experience… 
For an example, let's start off with the most commonly requested party type: GFE, or the Girlfriend Experience. This tends to be a soft, sensual encounter with lots of hands on touching, kissing, and deeply meaningful intimacy. By bringing the action of soft, slow ass spanking into the scene, you're getting an added element of erotic excitement. You get to wrap your fingers around my curves, squeezing and feeling my flesh beneath your fingertips as it slowly changes in tone from a pale ivory to a blushing pink. It's incredibly appealing to feel my body shift across yours, while you bend me over your knee, feeling my muscles flex and contract in response to the impact from your hand.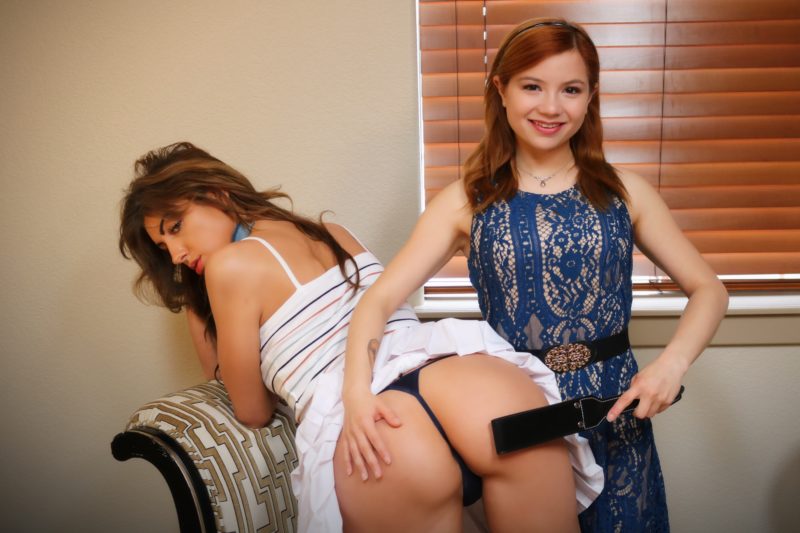 There is definitely a fetish element to spanking as well! Be it with toys or bare hands, spanking is a major turn on for a variety of reasons. You can pin me down, with your hand pressed firmly between my shoulder blades, my rear exposed and tilted upwards eagerly awaiting the sting of a hard, wooden paddle. You can be firm and authoritative, or even incorporate a role-play element of 'punishment' into things. I have been a naughty, naughty girl after all. Won't you please punish me?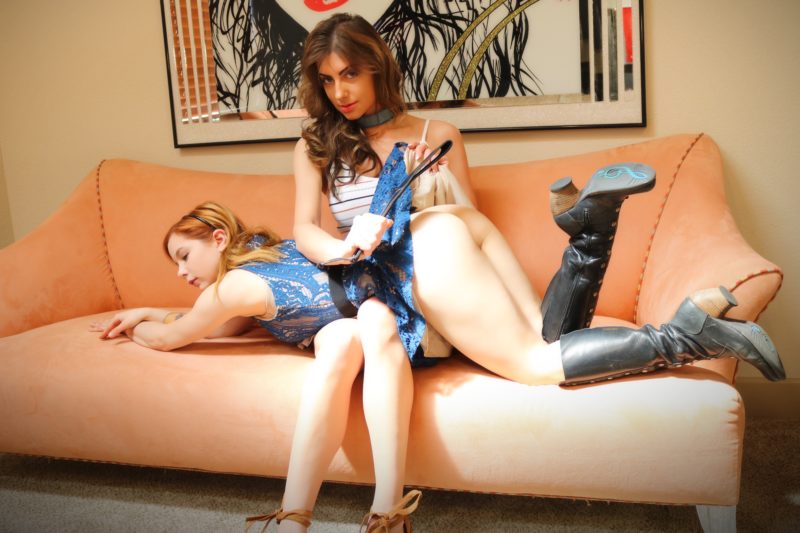 The reverse action is also a possibility- perhaps you're the one who's been ill-behaved. Maybe my slap can help give you an attitude adjustment, and remind you of your place. Many of the ladies, like myself, are Switches and are open to both giving and receiving spankings. But what is it about spanking that feels so good? Anatomically speaking, when you cause a vibrational impact across the rear of a female, it's going to shake her whole body. Her body will clench and muscles will tighten, much like the body does while orgasming. You may feel me get wet while your spanking, because the sensation is really getting me turned on! Don't take my word for it- come and see the results of a good spanking for yourself. For gentleman, spanking stimulates the prostate, and brings a type of pleasure most never get to experience. It's a huge turn on, both physically as well as mentally. My spanking clients tell me they most enjoy feeling the reactions — the slight shifts in my body weight, how my breath gets caught in my throat and escapes from my lips as I moan, the way my hips grind against their knees while they tease my pale flesh into a blossom of pink.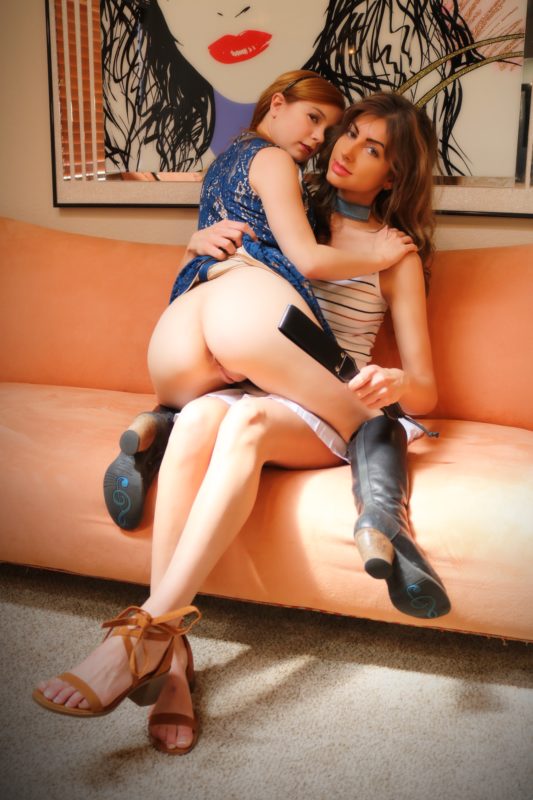 One of the most common questions I receive is how should someone go about spanking correctly to maximize pleasure. The ass is constructed of multiple layers of muscle, fat, and tissue that come together in a way that allows for a good amount of impact and sensation. The topmost section of the rear, where the tailbone is, should never be directly spanked. This can be very uncomfortable and unpleasurable, as you're essentially spanking the bone. Everyone is different of course, so be sure to discuss such things with your courtesan in advance. The most desirable section for spanking is the round, meaty section of the ass- this is going to feel both firm and muscular, depending on the ladies build. What you won't feel here is bone- it's entirely across the rounded section of the rear.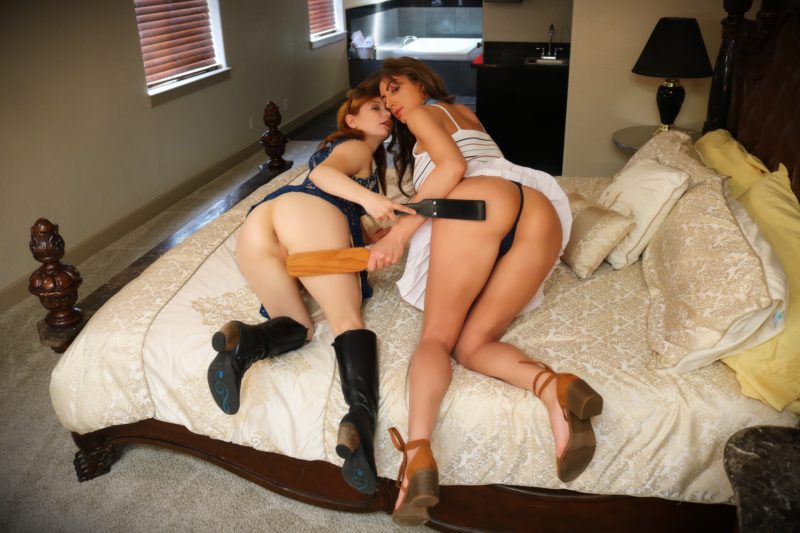 You can spank in a downwards motion to create one sensation, or change things up and spank upwards to tease and tantalize the lady's sensitive clit. This is an awesome way to create different sensations while spanking. While it is a viable spanking location, the backs of the legs and underneath the ass cheeks can be extremely sensitive. One or two light spanks or slaps to this area of the body can feel good, but in excess you can potentially cause some discomfort. The best ratio is 95% of strikes to the round of the ass, 5% of strikes to the back of the leg, under the ass cheek. Follow this method, and you're going to have an incredible time!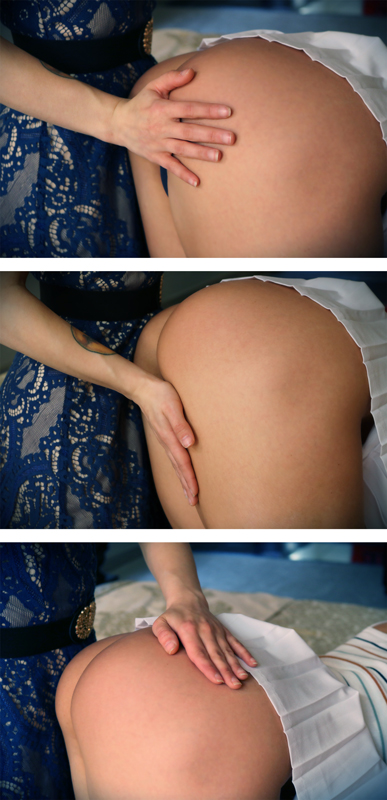 Spanking is something everyone should consider — it's easy to do, lots of fun, and you already have everything you need! No extra equipment or toys are required- your hands are the perfect tool and toy for the job! The next time you're with me, ask about incorporating spanking into our party- I have a feeling you're going to immensely enjoy the results.